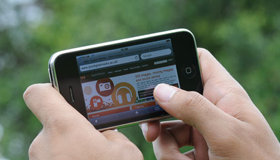 This week a UCISA survey, funded by JISC, shows that UK higher education has made notable progress in helping students and staff access library services, email and course announcements from their mobiles.
The sixth survey of technology enhanced learning for higher education focuses on the current provision of technology for learning within universities and colleges, and the emerging and planned patterns across the higher education community.
Encouragingly, the report reveals that academic staff knowledge is considered far less of a barrier to technology enhanced learning development than in other years, indicating greater progress with staff training and awareness of technology enhanced learning.
However, the top two barriers to technology enhanced learning development remain the same as those identified in the previous survey: lack of time and insufficient financial resources.
Heather Price, programme manager at JISC, said: "We are very pleased to have again funded this important biennial survey run by UCISA which explores the trends in technology enhanced learning. The findings of this survey always provide lots of very useful baseline information for the HE sector and this latest 2012 survey is no exception."
The survey results are available here for universities and colleges to use to benchmark their own work against national trends.
Sam Brenton, acting director of The Learning Institute, Queen Mary, University of London, commented: "The publication of this report is very timely for us and will be immensely useful. It's rare to see something of this scale that is done so well, and keys so directly into our in house conversations."
Richard Walker, e-learning development team manager at the University of York and co-author of the report, said: "For this year's survey report we included an additional layer of data on university mission groups, offering a different perspective on technology enhanced learning trends across the sector.
"The Survey sheds light on long standing areas of interest such as strategies and motivations for technology enhanced learning provision whilst touching on new concerns such as the economic climate that UK institutions are working in (post-Browne review) and how funding issues may impact on central and local support, on staffing provision, and training and development opportunities."