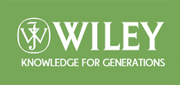 John Wiley & Sons, Inc (NYSE: JWa, JWb), announced today the acquisition of Harlan Davidson Inc. (HDI), a small family-owned publishing company in Wheeling, IL. The acquisition builds on Wiley's existing high quality American History portfolio, and strengthens growing curriculum areas such as World History, Atlantic History and State History. The terms of the acquisition were not disclosed.
HDI titles are used by undergraduates in four- and two-year institutions.  More students around the world will have access to them as a result of Wiley's extensive sales and marketing operations and strong relationships across the US and internationally. Wiley's digital innovation and expertise will also provide the opportunity to offer HDI's high quality content to a more diverse and wider market online.
"Harlan Davidson's audience and focus is a perfect complement to our own.  We already have relationships with a significant proportion of HDI's authors and feel that this is a natural extension of our work in the field of history to date," said Steve D. Smith, VP & Books Publishing Director, Social Sciences & Humanities, Wiley-Blackwell. "As a larger business with founding family involvement, we will be well placed to continue to offer HDI authors the highly personalized service to which they are accustomed, but at the same time expose their books to the broader and digital markets to which we have access."
Andrew Davidson, who will be joining Wiley,  commented, "My family and I are extremely pleased to know that the titles on which we have worked so hard over the years will find a good home at Wiley. On a personal note, I am thrilled to have the opportunity both to continue my relationships with the authors I have come to know but also work alongside the talented editorial staff at Wiley to develop new and innovative products to help students and instructors of history alike."
HDI was founded in the 1970s by the late Harlan Davidson, Sr., and is under the editorial oversight of his son, Andrew Davidson.  HDI's extensive backlist encompasses ten series, including those in American, European, and world history, political science, and literature, including the "Crofts Classics," previously acquired from Appleton-Century-Crofts. HDI, under Andrew Davidson's direction, currently has 20 new titles under development for the next three years, as well as ten revisions.