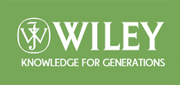 Wiley-Blackwell, the Scientific, Technical, Medical, and Scholarly publishing business of John Wiley & Sons, Inc., will begin publishing 44 titles new to its journal program, including 16 new launches and 40 journals published in collaboration with societies or other organizations.
Brand new titles publishing on Wiley Online Library over the course of 2012 include Advanced Healthcare Materials, PsyCH Journal (published with the Institute of Psychology, Chinese Academy of Sciences), Clinical Liver Disease (published with The American Association for the Study of Liver Diseases), Food and Energy Security (a Wiley Open Access title in partnership with the Association of Applied Biologists) and the open access title Journal of the American Heart Association: Cardiovascular and Cerebrovascular Disease.
Of the 44 titles, 28 are moving to Wiley-Blackwell from other publishers or from self-publication and these include ten journals from the American Counseling Association, three titles from the International Reading Association, two journals from TESOL International Association, ChemPlusChem (published in collaboration with ChemPubSoc, 16 European Chemical Societies), European Journal of Pain (published with European Federation of IASP® (International Association for the Study of Pain) Chapters (EFIC®)), Chemistry & Industry (the magazine of the Society of Chemical Industry) and Biology of the Cell (published with Société Française des Microscopies and Société Biologie Cellulaire de France).
"It is exciting that 2012 sees so many of our additional journals published in partnership with societies and other groups. I feel particularly honored that Wiley-Blackwell has been selected as publisher of these important titles. We look forward to working with our new partners," says Steven Miron, SVP, Wiley-Blackwell.
Eight of the new launches this year will be open access titles, joining a further six journals in the Wiley Open Access program. Wiley Open Access is a new program of fully open access journals publishing primary research across a variety disciplines. A full list of journals is available at www.wileyopenaccess.com. Wiley also publishes over 700 hybrid journals which offer OnlineOpen for authors who wish to make their article available to non-subscribers on publication, or whose funding agency requires grantees to archive the final version of their article.