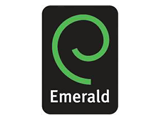 Global academic publisher, Emerald Group Publishing, today announces the winners of its prestigious Literati Network Awards for Excellence, 2014. Now in their 21st year, and one of the largest independent academic award programs worldwide, the awards recognize high levels of research excellence across the breadth of Emerald's research content.
This year, over 1700 members of Emerald's Literati Network have been acclaimed for their research excellence across four categories: outstanding papers, highly commended papers, outstanding reviewers and outstanding author contribution for both journal articles and books. Contributions were reviewed by the respective editorial teams with winners selected based upon a paper, or book's, ability to demonstrate global relevance, diversity, support for scholarly research, encouragement of applied research (impact), commitment to quality scholarship and a desire to ensure high levels of reader experience.
An example of authors recognized for their efforts, include: Professor Farok Contractor for the paper 'Punching Above Their Weight: The sources of competitive advantage for emerging market multinationals' in International Journal of Emerging Markets and Dr. Stephen Jacobson for 'School Leadership Practice and Preparation: Comparative perspectives on organizational learning, instructional leadership and culturally responsive practices' in Journal of Educational Administration. Outstanding reviewers, included Dr. Pauline Maclaran, for 'Journal of Historical Research in Marketing'.
Simon Linacre, Head of Academic Relations & Services at Emerald, comments: "Emerald's Literati Network Awards for Excellence recognize members for their contribution to academic research. The awards are of great importance to Emerald as they enable us to celebrate research advancements and support the wider academic community in achieving their research goals."
To promote the winners and the respective research, free access is available to all award winning papers for a period from one month to one year. To view a full list of winning papers, please visit: http://www.emeraldgrouppublishing.com/authors/literati/.
The Literati Network is Emerald's community of authors, editors and reviewers that work with the company to ensure the academic rigour and quality of Emerald research content.
– See more at: http://www.emeraldgrouppublishing.com/about/news/story.htm?id=5341#sthash.YVsFYB32.dpuf