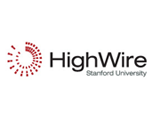 The American Association for the Advancement of Science (AAAS) announced its decision to renew their relationship to their long-standing ePublishing partner, HighWire Press.
AAAS's reputation as a pioneer in scientific publishing comes from more than 150 years of a mission-driven goal to advance science and serve society. Since 1995, as one of HighWire's first society partners, and now into the future, the two organizations will continue to share a collegial and collaborative working relationship, exploring new ways to innovate in the scientific marketplace.
Stewart Wills, Science's Editorial Director, Web and New Media, said of the decision: "HighWire's roadmap for the future dovetailed nicely with our own plans for developing our Web sites and other information products, and afforded us an opportunity to actively participate in that development on the Drupal platform, which AAAS is using for a number of efforts. This was an important factor in our decision, as it will allow for tighter integration across our sites and for more experimentation and responsiveness around the needs of our own users, while still taking advantage of the community-based strengths of HighWire's platform."
AAAS has long been a distinguished source of content for their members and the scientific communities they serve. Over the years of working with HighWire, AAAS has created a series of connected digital assets, from the prestigious and multi-media content of Science, to experimenting with topical Knowledge Environments, to reaching new users with leading research news and career sources.
"AAAS is a recognized authority in the STM world, truly a scholarly market leader," said Tom Rump, HighWire's Managing Director. "Science's editorial excellence, combined with the HighWire Open Platform which leverages Drupal co-development services, will create exciting new publishing and technology solutions."