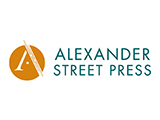 Alexander Street Press has forged an exclusive agreement with IT provider Eduserv to offer discounted online resources to the UK academic community in the fields of mental health, counselling, and psychotherapy.
Beginning this month, educational institutions in the United Kingdom and Ireland can acquire a range of Alexander Street's best-selling health sciences titles in an exclusive, cost-effective package. The package makes available more than 2,000 hours of streaming video and 80,000 pages of client transcripts and conference proceedings in one simple interface.
This new counselling package provides faculty with up-to-date developments in the field and offers students a variety of instructional and real-life training videos to help them become accomplished practitioners and administrators in the field of mental health. It includes content from five acclaimed Alexander Street collections—Counseling and Therapy in Video (volumes I–III); Counseling and Psychotherapy Transcripts, Client Narratives, and Reference Works; and The Video Journal of Counseling and Therapy.
"This arrangement," said Elizabeth Robey, senior editor at Alexander Street Press, "provides tutors and students with a comprehensive range of materials to support key approaches in the field, including cognitive behavioural therapy, person-centred, and others. More and more, universities are seeking visual resources to support this area of teaching and research, and our solution addresses this growing demand."
The agreement with Eduserv will help universities gain access to sought-after content in a cost-effective way, and will complement other Chest agreements in the field of psychology. "We are delighted to work with such a highly-respected organization within the academic library community. Eduserv's customer service reputation makes them an ideal partner to help share our counselling and psychology resources with this audience," said Gareth Bish, UK and Ireland sales manager at Alexander Street Press.
"Our contract with Alexander Street Press is very significant and means that universities and colleges will have access to these up-to-date mental health, counselling, and psychotherapy resources at discounted prices. It is an important addition to our portfolio of agreements and complements other resources we offer in these fields. We look forward to working with Alexander Street Press," said Nikki Green, business development manager at Eduserv.
For more information about Alexander Street Press's counselling and therapy resources, please contact sales@alexanderstreet.com or visit http://alexanderstreet.com/products/counseling-and-therapy.