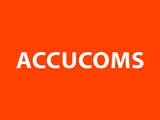 The American Physiological Society (APS) signs an agreement for shared representation in Europe, Turkey, and MENA with ACCUCOMS.
The American Physiological Society is a nonprofit membership organization devoted to fostering education, scientific research, and dissemination of information in the physiological sciences. The American Physiological Society publishes 14 peer-reviewed journals and book series covering all aspects of physiology.
ACCUCOMS will ensure that the American Physiological Society's journals are best placed for maximal market growth as well as for servicing and expanding their existing customer base in Europe, Turkey, and MENA. ACCUCOMS is a leading agency in these territories, with a successful track record of sales growth.
"APS is confident that this collaboration with ACCUCOMS will strengthen our activities and distribution as well as maximize sales in these three important regions, where ACCUCOMS dedicated sales representation is renowned," says Rita Scheman, Director of Publications and Executive Editor at APS.
"Simon Boisseau, Director of Representation Services at ACCUCOMS: "We are looking forward to representing APS and growing their business in these territories. To achieve this, ACCUCOMS will approach a dual strategy for growth in new markets and customer retention and engagement in more mature markets. We will work closely with APS to develop these bespoke strategies that are relevant to their territory needs."