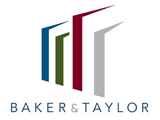 Baker & Taylor, the premier worldwide distributor of digital and print books and entertainment products, announced today that its board of directors has named longtime executive George Coe as the company's new Chief Executive Officer and President.
Mr. Coe brings 34 years of extensive experience leading and transitioning companies to becoming leaders within their industries. These companies have served public, K-12, academic, corporate and law libraries worldwide. Since 2000, he has served as President of Baker & Taylor's Library & Education division. Prior to Baker & Taylor, he served as Vice President and General Manager of Brodart Books, Library Automation and K-12 software management divisions.
Mr. Coe will replace Arnie Wight, who retired January 15 after a distinguished 34-year career with the company. Mr. Wight will assume the role of Non-Executive Chairman of the Board and will also work as a consultant for Baker & Taylor to support the leadership transition and the execution of strategic plans.
Mr. Coe has been instrumental in developing many of Baker & Taylor's important programs, such as digital media and econtent platform delivery services, data analytics and outsourcing capabilities in collection development and technical services. He has helped direct many of the company's strategic initiatives, including industry partnerships and acquisitions that have contributed to Baker & Taylor's growth as the leading supplier.
"Baker & Taylor is the leading provider of books, media, technological products and services to customers throughout the world, and I look forward to working with our excellent team to continue to enhance Baker & Taylor's innovative solutions for our retail, library and education customers." Coe continues, "I am proud to lead Baker & Taylor at a time when exciting changes are taking place in all of the markets we serve."
Mr. Coe serves on several industry-related boards, most notably the Board of Visitors for the University of North Carolina's School of Information and Library Science, as well as the Association of Library Trustees, Advocates, Friends and Foundations, which is a division of the American Library Association. He is also a member of the Urban Library Council, and has served on development committees for ALA and the Public Library Association.