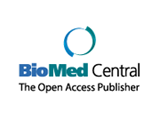 BioMed Central is pleased to partner with the Japanese Environmental Mutagen Society in publishing the open access journal Genes and Environment.
Editor-in-Chief of the journal, Takashi Yagi from Osaka Prefecture University, Japan, said: "A better platform is required to disseminate research information and to share it with scientists globally because great progress is occurring in the field of gene and environment research, especially in Asia. To achieve this, the Japanese Environmental Mutagen Society decided that open access for all articles of the journal would be provided via the major publisher, BioMed Central."
Genes and Environment has been running since 2006 on the J-STAGE platform and has been published by the Japanese Environmental Mutagen Society as the society's official journal.  This title has the aim of accelerating communications among global scientists working in the field of genes and environment. Topics published in the journal include mutagenesis and anti-mutagenesis; genotoxicity; DNA damage; water and air pollution; pharmaceuticals and anticancer agents; radiation; indirect mutagenesis; DNA methylation and chemoprevention of cancer.
President of the Japanese Environmental Mutagen Society, Yasunobu Aoki, said: "Genes and Environment has published many outstanding articles in the field of mutation research, including articles on the mechanisms by which environmental agents induce mutations. I believe that open access publication marks a turning point that will make the journal unique in the Asian environmental mutagen research community. Asian countries share issues that need to be resolved; for example, the people of Asia are concerned that diseases such as cancers may be caused by agents in the air, water or food, and this concern will be an important topic in the new Genes and Environment journal."
Stephanie Diment, Editorial Director for Biological Sciences at BioMed Central, said: "We are delighted to partner with the Japanese Environmental Mutagen Society to publish Genes & Environment. We share their mission to advance environmental mutagen research through open access publication and believe that this new partnership, in the journal's 10th year, will strengthen Genes & Environment so that it is the journal of choice for researchers in Japan, in Asia and throughout the world."