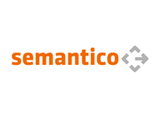 Brill and Semantico are proud to announce the launch of BrillOnline Discovery, which offers users the option to search across all of Brill's online resources from one central place. BrillOnline Discovery uses the Scolaris Linking Hub technology developed by Semantico. This enables federated search increased discoverability across the family of Brill platforms (BrillOnline Primary Sources, BrillOnline Books and Journals, BrillOnline Reference Works and BrillOnline Bibliographies).
A multi-platform publisher like Brill faces challenges in communicating the wealth of online information to users. With over 150 reference works and primary source collections, 200 journals and 4000 e-books the challenge is big. The number of visitors to Brill's online resources increases every month, which is an extra incentive for Brill to continue to invest in and improve user experience.
The Scolaris Linking Hub developed by Semantico helped Brill solve the problem of communicating the wealth of online information by enabling the user to discover and navigate to content on every site within the publisher's ecosystem, in a simple and cost-effective way. Users are now offered a full view of all content, links to related documents and access to multiple content types. With the introduction of BrillOnline Discovery, widgets have been added on the different platform which gives the user a full view of all content while visiting any one of the BrillOnline platforms, making it easier for users to search and discover the rich, high quality content Brill offers.
The Scolaris technology – developed by Semantico – promotes discoverability by providing intelligent, full-text search powered by Solr and allows rich taxonomy support for faceted search and browsing. The Scolaris Linking Hub solution also creates enhanced flexibility for customers by enabling different levels of subscription and direct access. This allows a broader range of customers to discover and engage with Brill content.
"Brill delivers high quality content from a wealth of sources. We want all of our customers to access and engage with this content," says Sam Bruinsma, Vice President Business Development. "Now with the launch of BrillOnline Discovery, users can easily search across our extensive corpus and be presented with a seamless and elegant user experience."
"The Linking Hub resolves the age old issue of bringing together content from a variety of sources and exposing this in an intuitive and comprehensive way," commented Giles Gailer, Account Manager. "The Linking Hub will benefit both publishers and end users, and we're confident that this product will have a positive and far-reaching impact."