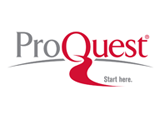 Recognizing the unique value of ProQuest products, West Los Angeles College increases their offerings from ProQuest in order to best meet the research needs of their students and satisfy the curriculum requirements held by many California Community Colleges. The addition of the Summon® service, ebrary ebooks and other ProQuest information databases will provide their library patrons the resources that they need to successfully complete their assignments.
"We chose to upgrade our ebrary Academic Complete subscription from ProQuest because we needed more science, psychology and medical coverage. Also, many California community colleges have curriculum and assignments which require ProQuest's unique products and research tools like the newspaper and historical collections as well as some specific ebook titles," comments Ken Lin, Librarian and Associate Professor.
Integrated with discovery services such as Summon and the ProQuest platform, Academic Complete™ will aid in the colleges need for a more seamless and productive end-user experience. Providing comprehensive coverage of the library's collections in a single, unified index, the addition of the Summon service will help West Los Angeles College to enable their students with the ability to discover authoritative content across their library collections without bias to content type, vendor or platform. ProQuest's interoperable solutions support West Los Angeles College in their mission to create success through innovative programs.
About ProQuest (www.proquest.com)
ProQuest connects people with vetted, reliable information. Key to serious research, the company's products are a gateway to the world's knowledge including dissertations, governmental and cultural archives, news, historical collections and ebooks. ProQuest technologies serve users across the critical points in research, helping them discover, access, share, create and manage information.
The company's cloud-based technologies offer flexible solutions for librarians, students and researchers through the ProQuest®, Bowker®, Dialog®, ebrary®, EBL® and Serials Solutions® businesses – and notable research tools such as the Summon® discovery service, the RefWorks® Flow™ collaboration platform, the Pivot™ research development tool and the Intota™ library services platform. The company is headquartered in Ann Arbor, Michigan, with offices around the world.