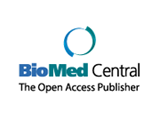 BioMed Central is pleased to announce that Caroline Black is to join as Senior Publisher. Caroline is moving from her position as Managing Director of Portland Press Limited and Group Head of Publishing for the Biochemical Society. She brings a wealth of experience in STM publishing, having previously worked at Current Science, Thomson Science, Lippincott Williams and Wilkins, Blackwell Publishing and Mac Keith Press.
In the newly created role of Senior Publisher, Caroline will have responsibility for the leadership, strategic direction, management and growth of a portfolio of BioMed Central's key products. The BMC Series comprises community-focused inclusive open access journals and BioMed Central's Medical Evidence portfolio, a group of journals and databases which register and publish medical case reports, negative results, clinical trials and systematic reviews.
Deborah Kahn, Publishing Director of BioMed Central said "I am extremely pleased that Caroline will be joining BioMed Central, and am very much looking forward to working with her. Her extensive experience of all aspects of STM publishing will be extremely valuable as we grow rapidly to meet the increasing demand for efficient open access journals in the biomedical sciences, and develop new products which link the evidence base around clinical trials and treatments".
Speaking of her appointment, Caroline said "I am delighted to be joining BioMed Central at an exciting time for open access publishing. The BMC series is a well established and respected portfolio but there are still tremendous opportunities ahead and I look forward to being part of them."