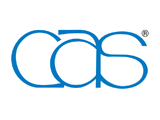 Chemical Abstracts Service (CAS), the world's authority for chemical information, just registered its 75 millionth small molecule.  CAS REGISTRYSM, traditionally known for providing access to substances reported in the literature back to the early 1800s, now contains this substance identified in a chemical catalog. In addition to covering substances from journals and patents, CAS REGISTRY includes substances from chemical catalogs, worldwide governmental regulatory agencies and valuable web resources.  Since CAS registers substances from chemical catalogs on a daily basis, it should come as no surprise that the 75 millionth molecule was registered from a chemical catalog.
CAS is the only organization in the world whose objective is to find, collect and organize all publicly disclosed chemical substance information. To support the needs of discovery chemists and intellectual property professionals worldwide, CAS has collected, and added to the CAS REGISTRY, fine chemicals from commercial suppliers since 1995.  A recent update from Aurora Fine Chemicals to CHEMCATS®, the commercially available chemical database comprising millions of substances from more than 880 suppliers, is the source of the 75 millionth unique small molecule in the CAS REGISTRY.  This molecule, available for purchase from Aurora, may be useful to chemical, biochemical and biomedical researchers alike. Although this compound is new to the CAS REGISTRY, substances similar to it, previously indexed by CAS, have been studied for their medicinal effects.
CAS Registry Number®: 1470595-42-6
3-(Cycloheptyloxy)-6-methyl-N-(1-methylethyl)-2-pyridinemethanamine
Seeking to improve workflow and to help speed the pace of scientific research, CAS provides scientists with convenient and rapid access to starting materials for chemical synthesis, pharmaceutical development, diagnosis and large scale manufacturing.  With the inclusion of chemical suppliers from around the world, SciFinder®, the choice for chemistry research, gives chemists direct access to commercially available fine chemicals.
"Aurora Fine Chemicals is delighted to learn that the 75 millionth substance in the CAS REGISTRY was assigned from our most current catalog," said Dr. Alexander Kutyrev, managing director of Aurora.  "With more than 18 million chemicals currently in stock, we know that hundreds of thousands of  scientists around the world using SciFinder every day can easily access our catalog to find the material they need quickly and conveniently."
Registered just a year ago, the 70 millionth substance came from a Korean patent.  This 75 millionth substance, coming from Aurora's collection of commercially available fine chemicals, shows the breadth of substance sources that CAS monitors to ensure that CAS REGISTRY includes every publicly disclosed substance.
"Every day, scientists at CAS curate the chemical content pouring into the CAS databases," said Dr. Matthew Toussant, senior vice president of editorial operations at CAS.  "I am especially pleased that our 75 millionth registration comes from the catalog of a fine chemical supplier. The ability to identify sources of available fine chemicals for purchase is a robust and highly valued feature in SciFinder.  CAS scientists seek this information from chemical suppliers in building our CAS databases, and this helps ensure that the world's reputable disclosed chemistry is included in CAS REGISTRY, the gold standard for substance information."