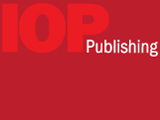 The Chinese Academy of Sciences (CAS) and IOP Publishing (IOP) have signed an agreement to publish the conference proceedings from the 28th International Conference on Photonic, Electronic and Atomic Collisions (ICPEAC) on an open access basis.
ICPEAC, which is being held in Lanzhou, China, on 24 – 30 July 2013, is a biennial international meeting bringing together over 500 physicists, from more than 40 countries, working in the atomic physics field.
IOP will be publishing the proceedings from ICPEAC for the third time running in the Journal of Physics: Conference Series. The journal previously published the proceedings from the 2011 conference hosted in Belfast, UK and the 2009 conference held in Freiburg, Germany.
Guoqing Xiao, Director of the Institute of Modern Physics, CAS, said: "We are very pleased to invite IOP as the publisher of ICPEAC 2013. At the last two ICPEACs, IOP did a great job in publishing our papers and left a deep impression with us. So I believe that IOP still have the ability to undertake the task. I am convinced that this year's conference will be successfully held in co-operation between CAS and IOP."
Mingfang Lu, Editor-in-Chief – China at IOP, said: "We are delighted to be publishing the proceedings of this important conference again and to further strengthen our long-standing collaboration with the Chinese Academy of Sciences. With the proceedings being open access, ICPEAC is leaving a legacy that will give long-lasting value to physics communities worldwide. I very much look forward to meeting with delegates at the conference in July."
Along with Mingfang Lu, Sarah Toms, Conference Publishing Coordinator at IOP, will be attending the conference.