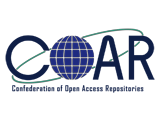 COAR is pleased to announce publication of the report, The Current State of Open Access Repository Interoperability (2012). The report provides an overview of the current interoperability landscape in terms of the types of services that are now possible because of recent research and development efforts from throughout the Open Access community, and it presents interoperability initiatives in connection to these services.
The intended audience includes institutions and repository managers operating at different points in terms of infrastructure, resources, and institutional support. For institutions new to Open Access and repositories, the report aims to provide guidance for getting started and indicates which interoperability initiatives are necessary to implement in order to achieve specific services. For institutions and repository managers already involved in OA and repositories, the report may provide ideas for additional functionality to add to your repository or further services that are possible to provide to your community.
The report covers seven areas of focus for current interoperability initiatives, and it provides overviews of nineteen key interoperability initiatives.
Click here to read the complete report.