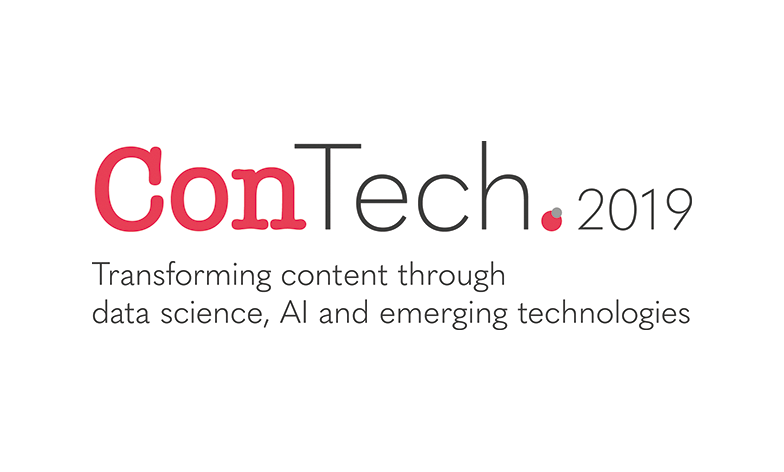 ConTech 2019 opens next week and there is so much to see, learn and share.
See:
Day 1 Opening Keynote – Andrew Anderson – Entrepreneur and Investor
The reality of 'Ai' is different from the hype because of the meaning associated with it. Think 'Augmented' rather than 'Artificial' and you realise that the greatest potential is to be achieved through augmenting human intelligence. It's no less exciting and it's more accessible than you might think.
Day 1 Afternoon Keynote – Debu Purkayastha – Managing Partner 3rd Eye
AI, Content and Technology both now and in the future. Insights into how things have developed and the potential of these technologies, particularly AI and Data Science.
Day 1 Closing Keynote – Ann Michael – CDO – PLOS and Max Gabriel – CTO – Informa Markets
In this session Max Gabriel and Ann Michael will discuss how organizations can increase their data maturity level. This will be a pragmatic discussion of what works and what does not work and how success can be built upon a few key principles and practices.
Day 2 Opening Keynote – Pat Chapman-Pincher – CEO mentor, speaker, strategist, futurist
The Impact of AI on Society – Artificial intelligence has huge potential to make human life both better and worse. It can help us solve many of the currently insoluble problems that face us; it can also help us destroy our world. How we think about AI, how we manage its introduction, will make all the difference between harnessing technology for our benefit or letting it run away with our future.
Learn:
Over 32 speakers from all over the world as they explore where we are today and what the future holds. See case studies, success stories, discussions and debates.
Share:
Eight networking sessions including a closing reception to share a glass of fizz or mulled wine.
Click here to view the full programme
If you haven't already book now to join a phenomenal delegate list of content and information professionals from around the world. Content heads, strategists and managers. CTOs, systems architects, data scientists and platform technologists. Publishers, senior librarians, information and engagement specialists. Founders, business leaders, comms and marketing experts are all represented.