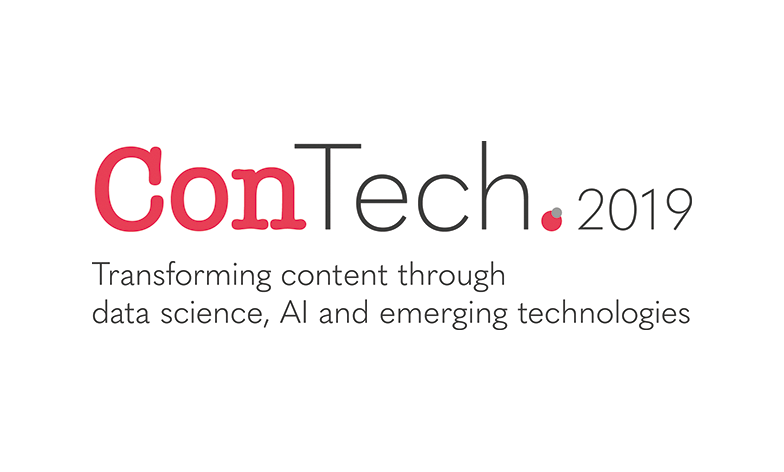 A full programme of ConTech Live events for 2019 has now been launched. The inaugural ConTech event last November, the conversations since, and the need in this space has led to the creation of some exciting new events for 2019.
ConTech 2019 will be held on the 5th and 6th December at the Millennium Gloucester, London. This flagship event for ConTech Live is already starting to shape up to be another must attend event. ConTech 2019 will continue to focus on the intersection between content and data science which is one of the most exciting, disruptive and unpredictable areas of publishing, content and information management right now. A first-class list of confirmed speakers and sessions will be announced in May.They will be exploring the very latest technologies, you will hear from some of the leading practitioners about how they are actually making these things work. Delegates can learn about new techniques, tools and tips, discover the very latest methodologies from the pioneers, see what works, what doesn't work, what might work tomorrow and why it doesn't today. Register to attend today and save £100.
ConTech Forum is a one-day event to be held on the 21st June at the Millennium Knightsbridge. This is a unique event which presents snapshot updates on the main ConTech issues. Many returning speakers and delegates along with new attendees interested in this space makes the forum a perfect place to get involved with ConTech and contribute to finalising the draft ConTech 2019 programme. The full programme of speakers is now available.
ConTech Pharma 2019 is a one-day event to be held on 17th September at the Millennium Knightsbridge. It will focus on how a new generation of technology is impacting the world of content. The programme will feature the pharma and digital healthcare content pioneers who are already seeing the benefits of using data science, the visionaries who are building new content tools and those who understand how to start applying this to their work. If you are a publisher, content strategist, pharma or digital healthcare professional and this resonates with you ConTech Pharma is a must attend event. Our conference co-chairs Jabe Wilson – Elsevier and Nick Lynch – Pistoia Alliance will be working with us on the programme during May. The call for speakers is open until 30th April and submissions can be made on the website.
ConTech Legal 2019 is a one day event to be held on the 10th October at the Millennium Knightsbridge. It has been specially created to examine the issues law firms, legal publishers, statutory bodies and information providers face from the transformation of content through data science, AI and other emerging technologies. It will be a forum to discuss both the threats and opportunities new technologies bring. Call for speakers will be open soon.
ConTech Live has established a platform to showcase the very latest thinking and to help understand how data science AI and other technologies can unlock a host of new opportunities for organisations of all types and sizes.
To learn more about the events, call for speakers, programmes and more visit the website
ConTech Live is organised by Info International Ltd