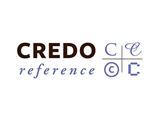 Credo, the industry leader for information skills solutions, unveiled a new look to their award-winning Credo Online Reference Service, updating several features with a focus on user experience. The enhancements are based on input from subscribers matched with cutting edge technology to create a cleaner, more modernized layout and increased searchability.
This intuitive interface makes it easier for learners to focus on discovering information while an improved mobile experience for smartphones and tablets demonstrates Credo's commitment to providing high-quality content anytime, anywhere. A new "Listen" feature increases accessibility by reading content aloud. A translation tool will also be available, allowing Topic Pages and entries to be viewed in dozens of different languages.
The updated layout for Credo's signature Topic Pages facilitates quick and easy discovery of the resources best suited to users' needs. Popular as a starting point in the research process, Topic Pages connect users to real-time results from library-selected resources, offering a helpful solution for those who find themselves stuck in one database without clear pathways to other resources relevant to their search. These 10,000-plus Topic Pages are now easier to navigate whether at the library or on the go, increasing access to the high-quality information people need in their academic, professional or personal lives.
"This update is part of a continuum of advances we've made that has allowed Credo Online Reference Service to maintain its position as a preferred reference platform for both libraries and publishers," said Credo CEO Mike Sweet. "Great content is only one part of the equation; we work extensively with users and subscribers to understand how they conduct research, and then innovate to provide intuitive products."
In addition to platform and technology enhancements, Credo also adds to and updates the content available in the Academic, Public and School Core Collections, ensuring users are able to find the most relevant, up to date information to satisfy their research needs. Learn more about Credo Online Reference Service here: http://corp.credoreference.com/product-services/credo-online-reference-service.html