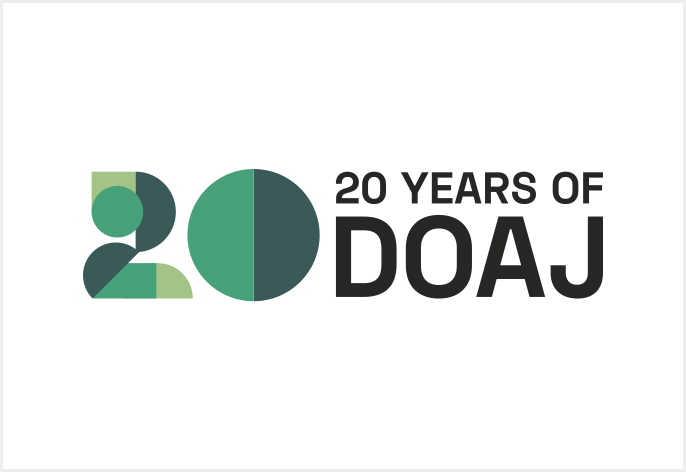 Today, the DOAJ team is happy to share a significant milestone with our community: the Directory of Open Access Journals now proudly lists 20,000 journals! This achievement is not just a number; it is a testament to our rigorous evaluation process and dedication to ensuring the trustworthiness and quality of scholarly journals in our index. For 20 years, DOAJ has been at the forefront of advocating for open access and facilitating access to reliable academic research. For the DOAJ team, this milestone reflects the tremendous growth of the open access movement and our commitment to transparency and best practice in journal publishing. As the number of journals increases, so does the potential for sharing knowledge, connecting researchers, and advancing science and scholarship.
Behind the curtain: The DOAJ Editorial team
Behind this impressive number lies an even more impressive effort to evaluate journals and maintain their credibility. The DOAJ team's dedication to examining each journal against a strict set of criteria ensures that we index only journals meeting high-quality standards. Together with our efforts to investigate questionable publishing practices and verify the legitimacy of journals, this quality assurance is the backbone of DOAJ's mission to provide a reliable platform for scholarly communication.
A journal's journey
Many people I speak to at conferences and events are surprised at the scale of our operation and know little about the process a journal follows before we add it to the index. After initial checks by our triage team, applications are distributed to one of our teams of specially trained volunteers from across the world who have chosen to contribute their expertise in scholarly publishing, language skills and passion for open access – a total of 2,500 hours each year. Each journal application is carefully evaluated against our criteria covering everything from copyright and licensing to peer review and transparency around aims and scope, editorial boards and author charges. The final decision to accept or reject a journal application is made by one of our Managing Editors. Rejected journals receive feedback on the changes they must make before reapplying. Many journal editors are grateful for this step, which supports them in enhancing the standard of their journals.
In 2022, we received 8,000 applications from journals to be indexed in DOAJ. 2086 of these were successful. Each one of them went through this thorough process.
The DOAJ Quality Team: Scholarly publishing sleuths
Protecting the reputation of the journals in our index is a responsibility that we don't take lightly. As well as our routine work to evaluate journal applications, we undertake investigations where we suspect that there is evidence of fraudulent practice. This can be uncovered as part of our standard evaluation process, or if a community member has contacted us with concerns about a title, or in response to external sources such as Retraction Watch. Each year, our Quality Team undertakes around 270 in-depth investigations, analysing journals for misleading or deceptive information and unethical practices. These investigations can result in the exclusion of a journal or publisher from DOAJ.
Evolving our criteria: Navigating the changing scholarly publishing landscape
Scholarly publishing continues to evolve, and our Editorial Team invests resources in keeping abreast of changes and ensuring that we adapt our standards, criteria and processes as needed. Behind the scenes, we work actively with partners like COPE, OASPA and WAME to address the challenges of unethical publishing methods to ensure that we continue to index only journals that meet standards of good practice.
Maintaining trust: The true value
In an era where information is abundant but not always trustworthy, the importance of maintaining trust in scholarly journals cannot be overstated. Researchers, students, and academics rely on credible sources for their work. Librarians want to integrate trusted journals into their catalogues and services. Funders need to know that the research they fund is published in reputable sources. Publishers want to demonstrate that they comply with best practice in scholarly publishing. DOAJ plays a pivotal role within the community in ensuring that the open access journals we list meet those expectations.
Fueling the future of trusted journals together
As the number of journals in DOAJ continues to grow, so do the challenges and costs associated with evaluating and maintaining them. Our work is thorough, labour-intensive, and requires ongoing resources, expertise, and dedication. Sustaining this effort requires the support of the entire academic community.
How you can support us
Spread the Word: Share the importance of DOAJ and its role in maintaining trust in scholarly publishing and encourage your library, institution or publisher to support us.
Make a personal contribution through Paypal: Financial contributions, no matter how small, can help sustain the work of DOAJ. Your donation goes directly into ensuring the quality and integrity of listed journals.
Reaching the milestone of 20,000 journals in DOAJ is a celebration of the open access movement. But there is still so much to do. The Diamond Open Access Journals Study from 2021 and last year's PKP research on the number of journals using OJS software demonstrate that many more open access journals worldwide could benefit from the quality assurance and visibility that DOAJ indexing provides. We rely on our community to work with us to bring these journals into the index, both by advocating for us at a local and regional level, and through financial support. We remain dedicated to maintaining trust in scholarly publishing and trust that our community will share the ongoing commitment required to ensure that open access lives up to its promise of accessible, reliable, and high-quality research.