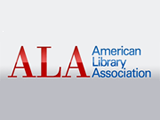 The American Library Association (ALA) Annual Conference, held June 21-26 in Anaheim, Calif, saw a unanimous resolution in support of  the value of school libraries passed by ALA Council, as well as discussions about e-books, privacy, library advocacy and other important issues.
Coinciding with the conference was the release of a report from the Pew Internet and American Life Project.  The report, entitled "Libraries, Patrons, and E-books" demonstrated the crucial role libraries play in the shifting digital terrain as e-reading, tablet computers and e-book readers become more popular.
"The new report underscores that libraries continue to be a vital part of people's lives in the digital age," said ALA President Molly Raphael. "Close to 70 percent of people say their local library is important to them and their family, and a majority of adults 16 years and older (58 percent) are library cardholders.
"The report also flags issues that demand attention. While more than three-quarters of U.S.public libraries now offer e-books (76 percent, compared with 38 percent only five years ago), many people are not yet aware of this service. Clearly there is an opportunity here for us to step up our outreach and increase public awareness of all the 21st century services our libraries have to offer readers, thinkers, entrepreneurs and dreamers. ALA and libraries welcome this challenge."
Following the release of the Pew report, Penguin announced that it would re-start e-book sales to libraries. Two New York City public library systems are set to get Penguin e-books as part of a one-year pilot program.
Pew's Lee Rainie, meanwhile, discussed the survey findings in a session entitled "The Rise of E-reading," and then on a panel (along with PW contributing editor Peter Brantley) on "Access to Digital Content: Diverse Approaches."
E-books were the elephant in the room at the conference, as confirmed by one of the programs, entitled "The E-book Elephant in the Room, which featured a panel that included such librarians as Sue Polanka at Wright State University in Dayton, Ohio. She demonstrated how OhioLINKS negotiated with such major publishers as ABC-CLIO, Gale, Oxford University Press, Sage and Springer, to purchase each year's entire front list, rather than individual books. By locally uploading the books using eXtensible Text Framework (XTF), they were able to make available a collection offering more books than Project Gutenberg.
The ALA's Washington Office, in its update, provided a sobering overview of library funding issues and emphasized the crucial need for vigilance in the area of library advocacy.
The Washington Office introduced a new advocacy tool called Mobile Commons, and paired it with presentations from speakers representing the Federal Communications Commission (FCC), the Electronic Frontier Foundation and the OpenGovernment.org.
Ted Wegner presented Mobile Commons, which provides a way to use text-messaging services to send out action alerts and a text-to-call feature that enables users to instantly connect to their representatives via email. According to Wegner, this new service can be subscribed to by texting LIBRARY to 877877.
Patrice McDermott, of OpenTheGovernment.org, said this organization was created because "there were groups working on similar issues, but they weren't talking to one another and we needed to find a bridge between these groups." McDermott said this was important to ensure there were not conflicting messages being sent to lawmakers that would end up weakening the effort.
"Many people think that transparency is putting information up," McDermott said. "But our focus is on the information that government does not want to put up."
She suggested that people should be concerned (as citizens, as librarians) and can go toopenthegovernment.org to give their input on issues, including the increasing restrictions on Freedom of Information Act requests, privacy concerns, national security and more.
Also at the Washington Office update session, Jordan Usdan, director of public-private initiatives at the FCC, said 66 million Americans do not use the Internet and encouraged libraries to help more people become "connected" and bridge the digital divide.  He said a Literacy Finder App is being developed to help people fine free local training opportunities. It will point to libraries and other groups participating in the program, he said.
At a ceremony held Sunday night, the ALA announced the first recipients of the Andrew Carnegie Medals for Excellence in Fiction and Nonfiction, funded by a grant from Carnegie Corporation of New York and sponsored by RUSA and Booklist.
Anne Enright's "The Forgotten Waltz" received the medal for fiction and Robert K. Massie's "Catherine the Great: Portrait of a Woman" received the nonfiction prize. The medals recognize the best fiction and nonfiction books for adult readers published the previous year in the United States.
This was the first time that the ALA, which sponsors the prestigious Youth Media Awards, including the John Newbery and Randolph Caldecott Medals for children's literature, has offered single-book awards for adult trade fiction and nonfiction. Andrew Carnegie Medals for Excellence in Fiction and Nonfiction winners and finalists were selected based on the expert judgment and insight of library professionals who work closely with adult readers. This is a departure from most major book awards, which are judged by writers and critics.
Nancy Pearl served as the chair of the selection committee.
"In many ways, librarians are the first book critics many readers come into contact with, and hence we are deeply thankful for their insight and guidance," said Vartan Gregorian, president of Carnegie Corporation of New York and a former president of the New York Public Library. "The Andrew Carnegie Medals for Excellence in Fiction and Nonfiction take that notion one step further and place the librarians' seal of approval on these wonderful books."
Enright and Massie each receive a medal and $5,000, and each finalist receives $1,500.
For more information on the awards, including the finalists, go towww.ala.org/carnegieadult.
The conference also acknowledged the key role played by school libraries, as the School Library Task Force introduced a resolution to the ALA Council that stated that school libraries and librarians are critical to educational success.  The resolution was passed unanimously
Rebecca MacKinnon, author of "Consent of the Networked," who works on global Internet policy as a Schwartz Senior Fellow, was the keynote speaker at the Opening General Session on Friday. She warned about the lack of privacy we all face in the age of the Internet.
Giving examples of government intrusion, ranging from Chinese citizens blocked from access to certain websites to Egypt's Mubarak government collecting surveillance data, MacKinnon said similar kinds of activities also have occurred in the United States, with the full cooperation of such companies as Amazon and AT&T.
"When controversial speech can be taken offline through pressures on private intermediaries without any kind of due process is a concern we need to be concerned about."
MacKinnon belonged to a distinguished roster of speakers that included the list who spoke as part of the Auditorium Speaker Series. Among them was author John Irving, whose 13th book, "In One Person," has been described as his most political work since "The Cider House Rules." The book's bisexual protagonist Billy Dean lives in 1950s small-town Vermont, where he becomes infatuated with a transgendered librarian.
Irving told the audience that he often portrayed "sexual outsiders." He said, "Writers are attracted to outsiders because that is who we think we are."
The ALA President's Program featured a conversation between ALA President Molly Raphael and best-selling author Jodi Picoult and her daughter Samantha Van Leer. The mother-daughter author team appeared as part of their tour for the launch of "Between the Lines," a book they wrote together.
Van Leer was asked by a young girl from the audience about where the idea for "Between the Lines had come from," and she admitted to conceiving of the book while daydreaming in French class – quickly advising the girl that she should pay attention in class. From there, Van Leer's idea traveled to her mother, who was stuck in L.A. traffic, but who was excited about the novel's concept, which involves an "incredibly handsome prince" who turns out to be more than a one-dimensional character in a book. "Who among us has not had a literary crush," she said.
When asked about the process of co-authoring the book, Picoult and Van Leer agreed that they shared a nearly identical vision for many aspects of the novel. Van Leer said, "A lot of the time, we were seeing the same things, " and her mother echoed this, saying, "Yes, it was like starting to tell someone your dream, and then having them finish the story."
Picoult noted, however, that she and her daughter did not always see eye to eye, with their biggest differences involving tone and character. "I thought my role would be of that of mentor. We had lots of arguments, and I realized that I didn't always know best."
Other popular speakers included Glee's Chris Colfer, broadcaster Dan Rather, Dan Ariely, Sapphire and actor Henry Winkler with Lin Oliver.
On Monday, Bettye LaVette closed the exhibits and helped rev up for the 2013 Midwinter Meeting in Seattle. Since releasing her first single at the age of 16 in 1962, she has survived the trials and tribulations of a career in the music business and lived to tell the remarkable story in a memoir, "A Woman Like Me." In conjunction with her memoir, ANTI- Records will release her new album, "Thankful n' Thoughtful," featuring Bettye's uniquely personal readings of classic songs by Sly Stone and others.
The Closing General Session featured "Dancing with the Stars" winner and Iraq war veteranJ. R. Martinez.
Less than a month after being deployed to Iraq in 2003, Martinez was critically injured when his Humvee ran over a landmine, leaving him trapped inside the burning vehicle. After suffering smoke inhalation and severe burns to more than 40 percent of his body, he was left fighting for his life.
After 34 months of recovery and 33 different surgeries, Martinez began using his experience to help others by sharing his story and soon became a highly sought-after motivational speaker.
In 2008 Martinez joined the cast of ABC's "All My Children" and in 2011 was named the winner of ABC's "Dancing with the Stars," along with his partner Karina Smirnoff.
Martinez's new book "Full of Heart: My story of Survival, Strength, and Spirit"will be published in November 2012.
Several authors, including Stephen King, Amy Tan, Scott Turow and Matt Groening, let their hair down by performing as the rock band The Rock Bottom Remainders during theALA/ProQuest Scholarship Bash on Saturday. They were joined by rock legend Roger McGuinn of The Byrds, as the Rock Bottom Remainders gave their last performance; founder Kathi Goldmark died on May 24.
Executive Director Keith Michael Fiels provided total attendance figures as of Sunday for the Anaheim conference, which amounted to 20,021. Fiels noted that the numbers were nearly identical to the 20,042 attendance at the 2011 Annual Conference in New Orleans, and only about 2,000 fewer attendees than in 2008. "Certainly the exhibitors were very pleased," Fiels said.
Maureen Sullivan, an organization development consultant, was inaugurated as the 2012-13 ALA President.