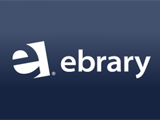 New service provides the benefits of multi-user access for purchased titles with less upfront costs
Adding a new dimension to its strategic approach to ebook acquisition, ebrary®, a ProQuest business, today announced Extended Access™ for titles  purchased under a single-user license. Extended Access reduces up-front costs to the library,  eliminates speculative purchases of multiple copies, and prevents turn-aways when titles are in use.
"Libraries no longer need to purchase multiple copies of e-books up-front based on what they  think researchers may need, and they do not have to worry about turn-aways for titles in high  demand," said Kevin Sayar, President and General Manager of ebrary. "Extended Access  allows libraries to strategically and more affordably expand the availability of purchased titles for  a higher return on investment."
There are a number of ways that libraries can purchase e-books from ebrary: They can buy individual titles and packs outright, automate purchases through their e-approval plans, and buy  titles that are triggered based on usage through patron driven acquisition.
With Extended Access, libraries can now more cost-effectively purchase titles under a singleuser license and ensure access. If a title is in use, and another researcher needs it, the library  can upgrade to a multi-user access model when available, purchase another copy, or take a  short-term loan. The process can be automated and seamless to end-users, or libraries can  receive email notifications and trigger the additional purchases themselves. Extended Access also provides an advantageous way for libraries to complement their  Academic Complete™ subscription with perpetual archive titles. Academic Complete, ebrary's  flagship subscription product named as a CHOICE Outstanding Academic Title, has always  offered simultaneous, multi-user access and now includes over 75,000 scholarly e-books. The  thousands of libraries throughout the world who use Academic Complete as their base collection can now more affordably purchase additional titles with access on-demand.