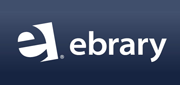 In an ongoing effort to better understand the research requirements and expectations of students, especially as they relate to books, ebrary® today announced the initial results of its 2011 Global Student E-book Survey.  A comparison of the new survey with the same survey conducted in 2008 implies that aggregators, publishers, and librarians need to better collaborate to address students' information and research needs.
"The increasing popularity of consumer technologies such as social media, handheld devices, tablets, and e-readers is changing the information landscape and directly impacting students:  They expect to have the information they need available the second they need it, regardless of format," said Carol Zsulya, Head, Collection Management; Business/Economics Librarian, Cleveland State University.  "The ebrary survey, which was originally developed by participating libraries including Cleveland State, suggests that we as providers and disseminators of authoritative information may not be meeting these expectations."
Key findings of the survey of more than 6,500 students include the following:
• E-book usage and awareness have not increased significantly in 2011 over 2008
• Preference for printed books over electronic books has not changed: Both are still equally important
• The vast majority of students would choose electronic over print if it were available and if better tools along with fewer restrictions were offered
• There is a need for reliable social media tools geared toward research
"These survey results suggest digital content and services providers need to re-think our approach: Until more electronic content is available simultaneously with print, we cannot lose sight of the value of printed books to end-users, who expect to find the most authoritative information at the point of need.  To accomplish this we need better integration and tools to increase the availability and discoverability of all types of information, both electronic and print," said Kevin Sayar, President and General Manager of ebrary. "We do not take data points from this survey lightly, and we thank the library community for working with us to gather important knowledge that will help shape the future of the information industry."
Initial Results to be Presented at Charleston and Via Webinar Sayar and Zsulya will co-present the initial comparison of the 2011 vs. 2008 Global Student E-book Surveys along with Cleveland State University's institution-specific results in 2011 at the Charleston Conference.  The "Lively Lunch" session will take place on Friday, November 4, from 12:30pm-2pm EDT at 39 Rue de Jean Restaurant, upstairs.  To RSVP for the session, please visit
http://www.tfaforms.com/220426.
A live webinar from the Charleston Conference will be available to anyone unable to attend the event and will begin at 12:45pm EDT. To sign up for the webinar, visit http://www.tfaforms.com/222269.
Sign Up to Receive Transcript and Full Report
Anyone may sign up to receive a copy of the transcript from the Charleston session as well as a complimentary copy of the full report, which will be available in January, at http://www.tfaforms.com/222150.