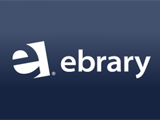 Academic Complete™, the flagship ebook collection from ProQuest's ebook platform, ebrary, has added 20,000 titles to its selection of in-demand scholarly academic monographs. The additional titles come from renowned publishers such as Ashgate, Edinburgh University Press, Harvard University Press, Peter Lang, MIT Press, and Wiley. Academic Complete now offers a selection of more than 109,000 ebooks, with more than 33 percent published since 2009.
"This is a very significant expansion in service and content from Academic Complete," said Kari Paulson, ProQuest Vice President and General Manager, Ebooks.  "We've accelerated not only in quantity, but more importantly on quality and currency. These are high demand titles that researchers will use extensively, providing a high rate of return on the library's investment."
Winner of multiple awards, Academic Complete is a multidisciplinary subscription collection that provides a comprehensive foundation of ebooks for students at all levels – from undergrad to post-doctoral research. Libraries rely on Academic Complete as an affordable base of content, applying its precision usage statistics to determine where to apply additional budget in patron-driven acquisition, short-term loans and perpetual archive. Further, Academic Complete can be deduplicated against the library's firm and PDA titles from both ebrary and EBL to eliminate overlap. Libraries also value the benefits of DASH!™ (Data Sharing, Fast), a unique service that gives libraries the opportunity to upload and integrate their own digital repositories.
Academic Complete is available on the ebrary platform, which has been developed over more than 14 years with input from librarians, publishers and end-users. It's beloved by researchers for its ability to quickly connect them with answers, 24/7, from all devices including the iPad®, iPhone®, iPod touch® and Android. ProQuest is currently integrating ebrary with EBL – Ebook Library, a fellow ebook pioneer and ProQuest business. Together, the two companies will offer an unparalleled ebook experience with the widest content offering, most innovative acquisition models, and complete end-to-end workflow solutions. Customers will benefit from the ongoing enhancements to both the ebrary and EBL platforms in the interim and later the combined ebook platform in 2015.