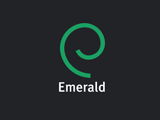 Emerald, the global scholarly publisher, today announced its highest ever number of appearances in the 2011 Journal Citation Reports® (JCR) published by Thomson Reuters, with 53 titles and 84 rankings. Eight new titles received their first impact factor, which amounts to a 17.7 per cent increase in ranked titles. Emerald also continues to grow the number of citations, with 60 per cent of its journals indexed recording higher numbers of citations in the 2011 volumes.
Highlights in this year's report include: the European Journal of Marketing received the highest citation count, making its five year impact factor debut with a score of 1.969; Rapid Prototyping Journal scored the most improved ranking, going up 25 places to 125;Journal of Knowledge Management secured its first impact factor at over 1; and Personnel Review recorded the highest increase of impact factor with a jump of 56 per cent.
In the Management category, five new titles were included, with a total citation count up by 17 per cent. Two new titles were added to the Library Studies category and with a 59 per cent increase in citations in this category, Emerald journals showed a faster rate of increase than the overall category rate of four per cent.  For Business, one new journal was added, and Emerald citations in this category were up by 16 per cent. In Engineering, 16 out of the 18 titles in the portfolio are indexed, and citation is up four per cent.
Tony Roche, Publishing Director at Emerald, comments, "Coming from a leading citation resource, these results are excellent news, reflecting the quality of contributions from our authors and the value of the editorial and peer review processes provided by our networks and publishing teams. This is one of many measures we use to assess the quality of the research we publish and its impact in research, practitioner settings and society.  We continue to invest in partnerships and services to help the subject communities and professionals we serve achieve better outcomes in their work."