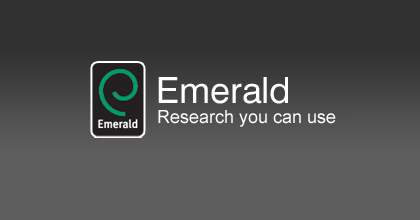 Each year, Global Entrepreneurship Week encourages entrepreneurs to build the businesses of tomorrow. In support of this initiative, Emerald Group Publishing is providing free access to its complete collection of 15 entrepreneurship and innovation titles. In total, nine journals and six book series can be read online during Global Entrepreneurship Week from 14-20 November 2011 by visiting www.emeraldinsight.com/tk/gew2011
With so many new jobs in entrepreneurial economies coming from firms less than five years old, it is not surprising that both political and business leaders from around the world are looking to reinvigorate their economies by focusing on ways to stimulate new firms.  Recent issues in Emerald's Entrepreneurship and Innovation collection have covered open innovation, developing enterprising individuals, governance and social enterprise as well as emerging topics such as gender and Chinese entrepreneurship.  Titles include the Journal of Small Business and Enterprise Development as well as recently launched titles Journal of Entrepreneurship and Public Policy and the Journal of Family Business Management.
As a publisher, Emerald is committed to demonstrating the real-world, practical application of the content it publishes, and is proud to support initiatives such as the Global Entrepreneurship Week, which started in 2008.  Launched by former UK Prime Minister Gordon Brown and Carl Schramm, the president and CEO of the Ewing Marion Kauffman Foundation in the US,  it has grown to 115 countries — with nearly 24,000 partner organizations planning more than 37,000 activities that directly engage more than 7 million people.
For further information about Emerald's collection of entrepreneurship and innovation journals and book series, visithttp://www.emeraldinsight.com/tk/gew2011
For more information about Global Entrepreneurship Week, visit http://www.gew.org.uk/