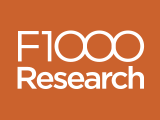 F1000Research, an original open science journal for life scientists, announces that articles published and  peer-reviewed via its novel post-publication peer review model are now visible in PubMed, the world's  largest and most-used biomedical literature database, and PubMed Central (PMC). Since its launch at the start of this year, F1000Research has published over 300 articles, and continues to  challenge the traditional scholarly publishing model through its innovative, open and transparent Open Science publishing model. Today F1000Research announce that its first articles are now visible in  PubMed and PMC, and from now, new articles will be deposited with these indexers as soon as they  pass peer review.
All articles accepted by F1000Research are published rapidly (on average, articles are published live on the site within seven days of acceptance) using an open access license, and are then formally peer reviewed by invited referees. Referee comments and names are published with the original article. This process aims to remove the standard publication delays and significantly reduce referee and publication bias.
The Open Science publishing model has afforded new opportunities to capture and index a wider range of associated rich article metadata. F1000Research publish referee reports, author responses and underlying data alongside the article itself, and has worked with the National Library of Medicine (NLM) to ensure this additional information is accessible in PMC by developing a more robust way of archiving full-text biomedical literature. This marks a milestone in the communication of scientific findings, and one that will help to lead the way for the increasing number of other publishers who are now developing similar approaches to publication.
Commenting on the visibility of F1000Research articles in PubMed and PMC, Rebecca Lawrence, Managing Director of F1000Research, said: "We would like to extend our thanks to all our existing authors for their patience while we worked through the complexities of these issues with NLM. We are extremely grateful for the support of these early adopters of our publishing approach, without whom our achievements thus far wouldn't have been possible."