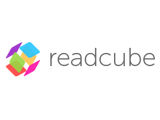 Future Science Group (FSG), consisting of two imprints, Future Medicine and Future Science, has partnered with Boston-based publishing technology company ReadCube to increase the discoverability and enhancement of their articles within the ReadCube web, desktop and mobile environment. All 28 titles from Future Medicine and 7 from Future Science have been deep-indexed for easy discovery across ReadCube's search engines and recommendation feeds.
"We are dedicated on innovating to meet the changing needs of our readership." says Phil Garner, Managing Director. "Working with ReadCube to enhance the reading experience of our articles enables us to further this pursuit.
The agreement also offers readers access to enhanced reading features on over 25,000 articles when read within any of the free ReadCube apps. Article enhancements include hyperlinked in-line citations, annotation tools, clickable author names, integrated altmetrics, and direct access to supplemental content.
"Facilitating the discovery of scholarly content is the foundation upon which ReadCube is built," said Robert McGrath, CEO. "We look forward to working with Future Science Group to optimize their content and offer seamless discoverability across our platform – offering benefits to FSG and to our global user community."