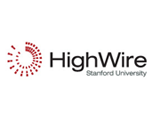 GeoScienceWorld (GSW) announces the release of the new GeoScienceWorld eBook Collections – ebooks.geoscienceworld.org – on the HighWire Open Platform. The new site is dedicated to the study of the earth sciences, containing books from 10 leading society publishers.
The GSW eBook Collections is cross searchable and interlinked with 120,000 articles in GSW's Millennium and Archive Journals Collections and 3.3-million records from the American Geosciences Institute (AGI)'s GeoRef database. 713 book titles are available now with a total of 1,050 expected by the end of summer 2014.
"With the addition of the eBooks Collections to our journals and AGI's GeoRef, GSW now provides sophisticated integration, search, and discovery capabilities for the most respected earth science content online," says Alix Vance, CEO of GeoScienceWorld. "It furthers our mission to expand global access to scholarly resources using the most up-to-date technology and research tools."
HighWire's Folio eBook solution highlights the interconnectedness of relevant content, regardless of format, with search results from books, journals, and GeoRef records in one place. Key features of the platform include:
Advanced search allows users to construct a query by content type and/or conditional options (such as title, abstract, full text, date range or DOI).
Results are displayed with facet delimiters, including content type, publisher, eBook series (if applicable), GeoRef subject, geologic time, and publication date.
Figures are included in search results, and the ebook reader features a figure viewer.
GeoRef links are embedded in many chapters.
PDF downloads for chapters, front matter, back matter, and additional assets.
Email distribution is included in content-sharing options.
Citation Manager supports the most popular citation services: BibText, Bookends, EasyBib, EndNote, Mendeley, Papers, Ref Manager, RefWorks, and Zotero.
Browsing by subject and by publisher sections help users quickly find the materials they need.
"We're proud to help GSW expand their publishing program by offering cutting-edge technologies to their subscribers and research users," said Tom Rump, CEO of HighWire Press. "Their enlightened, forward-thinking leadership understands the core value of cross-platform integration, enhancing the discoverability of their high quality content."
Next steps and technology enhancements will enhance the speed and performance of searches, support closer integration with the GSW Journals and GeoRef, and deliver free MARC records for all titles.
Title collections are available now for institutional subscription, and soon, chapters will be available for online purchasing and downloading by individual users. Non-customers may conduct searches and find detailed book information, abstracts, and tables of contents for each title. Full text content is available by institutional subscription and/or via Athens affiliation. Free trials are available to prospective institutional customers. Submit trial requests to:gswinfo@geoscienceworld.org.