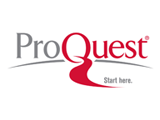 Guests last night attended a special event held by ProQuest at the Royal Society of Medicine in London to launch the 2014 edition of The Annual Register. The event, held each year, celebrates a new volume of the publication, which provides expert analysis of developments in every country of the world, as well as the fields of economics, the environment, science and the arts, religion and the law.
The Annual Register is a key source for historical research and current affairs reference. Now in its 255th year of unbroken publication, the book created by Edmund Burke in 1758 continues to inform, entertain, and record the events of the year in a crisp and lucid style. Last year, the book was made available as an ebook, along with the traditional hardcopy format.
This year's event theme was global health, and the keynote speaker was Dr. Jeremy Farrar, Director, Wellcome Trust, whose presentation was entitled "Global Health: Challenges and Opportunities." Dr. Farrar has contributed to 500 peer-reviewed scientific papers, and served on several World Health Organization advisory committees.
Dr. Farrar said of his presentation at the event: "We are more connected to each other than ever before, meaning that novel and drug resistant pathogens that emerge in one country can no longer be dismissed by the rest of the world. Drawing on 18 years of experience working in tropical medicine in Vietnam, this lecture will explore the scope of the problem of infectious disease worldwide and present some possible solutions, including radical overhaul of the clinical trials system and the need for strong international leadership."
The ebook format of The Annual Register is available through ProQuest's ebooks business ebrary®, and can be ordered individually through perpetual archive and patron-driven acquisition models, or as part of the scholarly Academic Complete™ subscription collection. As an ebook, The Annual Register is accessible on any web-enabled device, with mobile apps for iOS and Android.
To learn more about The Annual Register, click here.