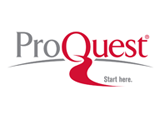 ProQuest, a global information firm renowned for powering serious research, announced today that an affiliate of Goldman Sachs will purchase a significant minority equity interest in the Company, including the stake held by private equity firm ABRY Partners.  Goldman Sachs will join majority shareholder Cambridge Information Group (CIG) as a partner.
"Our aim is to continue to strengthen ProQuest's industry position through organic growth, acquisitions and continuous innovation," said Kurt Sanford, CEO of ProQuest. "We are thrilled to have Goldman Sachs as an investor and we recognize their investment as affirmation of our strategy and future potential."
"With an outstanding leadership team and unique information and technology assets, ProQuest is positioned to transform the process of research in universities, libraries, schools and corporations," said Andy Snyder, CEO of CIG and Chairman of ProQuest. "We are delighted to welcome Goldman Sachs as our new partner. Their involvement will help us continue to build the business and expand its role across the research ecosystem.  In addition, we are thankful to ABRY Partners for a terrific partnership over nearly seven years, and we wish them continued success."
"ProQuest has an industry-leading management team and a world-class product offering, with a well-deserved reputation for quality customer service," said Bradley Gross of Goldman Sachs. "We are delighted to have the opportunity to partner with ProQuest and look forward to working together."
ProQuest is known for its inventive information solutions that increase the productivity of students, scholars, professionals and the libraries that serve them. Through partnerships with content holders, ProQuest preserves rich and varied information – from historical archives to modern scientific breakthroughs – and packages it with digital technologies that enhance its discovery, sharing and management. For libraries and professional organizations, ProQuest provides resources that enable strategic acquisition, management and marketing of information collections.
ProQuest's innovations are built from a broad spectrum of expertise. Its affiliate Bowker® is acclaimed for a century of experience organizing book data via classic resources such as Books In Print®. ProQuest's aggregation solutions are supported by renowned skills in abstracting and indexing, while its historical collections leverage unique talent in the preservation and digitization of rare archival collections. Its ebooks collection – encompassing pioneers ebrary® and EBL® – solve challenges related to emerging electronic formats. Other leaders include ProQuest Dialog® corporate information service, the Summon®discovery service, research tools RefWorks Flow™, Pivot™ and Intota®, a comprehensive library services platform.
Evercore acted as financial advisor to ProQuest on this transaction.