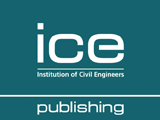 Two new publications to launch March 2013 – ahead of print articles now available free online
ICE Publishing, the publishing division of the Institution of Civil Engineers, has announced the expansion of its unique ICE Science series with the launch of two topical new journals – Green Materials and Surface Innovations.
Established in 2011, ICE Science is a major series of scientific journals designed to help promote and share innovative research at the intersection of several scientific and engineering disciplines. Following the successful publication of three cross-disciplinary journals, in the areas of materials science, biomaterials, nanotechnology and energy, these latest journals see expansion into the fast moving fields of green chemistry and surface science.
Officially launching in March 2013, ahead of print articles are already available free online. Both topical journals are expected to foster dynamic links between research communities and with free online access continuing throughout 2013, published researchers can expect to be both widely read and cited.
Victoria Rae, Commissioning Editor at ICE Publishing, commented: "New challenges and growing concerns, together with exciting technological opportunities and breakthroughs, are issues arising from 21st century living. It imperative that scientists and engineers collaborate and share ideas in order to ensure the latest materials, chemicals, products and structures are environmentally responsible and resource efficient. The 2013 journals from ICE Science aim to tackle some of these problems and be a part of important discoveries and life-changing innovations."