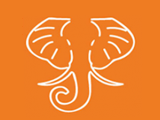 On September 10-11, 2012, the HathiTrust Research Center (HTRC) hosted its first annual HTRC UnCamp at Indiana University in Bloomington. The two-day event featured visionary speakers mixed with boot-camp activities and hands-on sessions with HTRC infrastructure and tools. It also fostered the growth of a diverse and inclusive scholarly community around the research center and its activities.
"The UnCamp was a resounding success," said Professor J. Stephen Downie, co-director of HTRC. "The halls were buzzing with creativity and excitement as participants brainstormed collaborative project ideas with the HathiTrust Research Center team. You could sense that this was the start of something rather special."
The HTRC is a collaboration between the University of Illinois, Indiana University, and the HathiTrust Digital Library, with the goal of creating cyberinfrastructure and computational tools to provide improved access to digitized collections:
The HTRC is a collaborative initiative launched . . . to help meet the technical challenges of dealing with massive amounts of digital text that researchers face by developing cutting-edge software tools and cyberinfrastructure to enable advanced computational access to the growing digital record of human knowledge.
Leveraging data storage and computational infrastructure at Indiana University and the University of Illinois at Urbana-Champaign, the HTRC is developing a secure computational and data environment for scholars to perform research using the HathiTrust Digital Library. The center is breaking new ground in the areas of text mining and non-consumptive research, allowing scholars to fully utilize content of the HathiTrust Library while preventing intellectual property misuse within the confines of current U.S. copyright law.
The HTRC UnCamp attracted 130 attendees representing 44 institutions from across the United States. Illinois was prominently represented by 27 students, staff, and faculty, and HTRC provided financial support for 13 student participants from GSLIS and the Illinois Informatics Institute.
Core members of the HTRC team presented on the HTRC architecture and data API, collection building, and data analysis. Invited speakers demonstrated use cases, and participants selected four user-determined sessions on the role of HTRC in the classroom, HTRC as an anchor for digital humanities centers, OCR correction, and intertextual analysis. Photos and videos of the event, presentation slides, and an archive of the #htrc12 Twitter feed are now publicly accessible via the HTRC wiki.
John Wilkin, executive director of the HathiTrust Digital Library, presented the opening keynote, and session leaders included: Colin Allen (Indiana University), Loretta Auvil (University of Illinois), J. Stephen Downie (University of Illinois), Stacy Kowalczyk (Indiana University), Robert McDonald (Indiana University),Beth Plale (Indiana University), Yiming Sun (Indiana University), Ted Underwood (University of Illinois), and Jeremy York (HathiTrust).