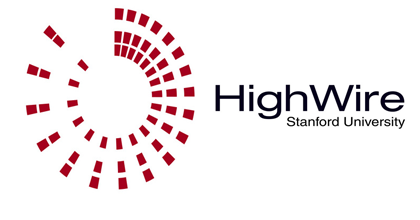 Stanford University's HighWire Press is pleased to announce the appointments of Bill Matthews as Director of Business Development, and Ed Braniff as Chief Operations Officer. The staff structural expansion is designed to further enhance HighWire's organizational focus on innovation, community and customer service.
Bill Matthews will be responsible for the business development activities at HighWire including sales, marketing and strategic partnerships. With 25 years of experience and progressive responsibility in sales, marketing research, online publishing, and information industries, Bill brings an outstanding pedigree of business practices to HighWire consisting of a consultative communication style, customer-focus approach, and a high degree of ethical standards.
Bill has held executive management positions at several online publishing technology companies, most recently at NetSeer, a web-based technology company focused on understanding user intent within a semantic framework. He also served as VP of Business Development at TACODA and had a successful term at I/PRO, the internet's first website traffic verification service, where he built, managed, and developed I/PROs Account Management and Sales organizations, eventually being appointed to President. Prior to I/PRO, Bill spent 16 fruitful years at A.C. Nielsen.
"I'm thrilled to be working with HighWire and Stanford University," said Bill. "The scholarly publishing industry is evolving, and I see many opportunities emerging. HighWire's solid reputation, open platform approach, and aligned interest with the publishing community, put the company in a great position to further its mission of ensuring that scholarly publishers thrive."
Edward Braniff has stepped up to take on the role of Chief Operations Officer at HighWire. Ed has been a consultant at HighWire since June 2011, working directly with HighWire's Managing Director, and has been an integral part of HighWire's operational excellence and customer support initiatives. Ed has an excellent record of driving operational change, enhancing systems and processes, unifying product offerings and overseeing operational changes. Ed worked for AT&T for 20+ years, as Chief Financial Officer for their technology and network division, following a series of roles within the company providing strategic business advice in sales, operational and financial divisions. Most recently, Ed has held senior level positions with a technology startup in Virginia and as the CFO for Cedar Group North America, the Financial Director of the company in London, and the Chief Operating Officer of North American operations. Ed has also provided interim management and held CFO, President and CEO positions in the automotive and packaging industry in the US and in Israel."Ed brings to us great perspective and experience," says HighWire's Managing Director, Tom Rump. "I couldn't ask for a more seasoned veteran in helping drive HighWire's vision and success.