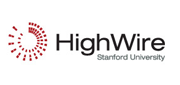 HighWire Press is pleased to announce the launch of its one thousandth mobile website. This milestone was achieved in just over a year from the initial deployment of the HighWire Mobile Web product. "Since the introduction of the iPhone 3G, it became apparent that mobile users were trying to access journal sites via their mobile devices and quickly became frustrated with the usability," said Matt Rampone, HighWire's Mobile Product Manager. "This product was designed with users in mind, to better serve their mobile workflows."
The latest mobile site to launch on HighWire is the American Journal of Respiratory and Critical Care Medicine(ajrccm.atsjournals.org), a publication of the American Thoracic Society. When a reader uses their smartphone device – iPhone, iPod Touch, Android, or BlackBerry – to access any of the ATS journals (AJRCCMas well as the American Journal of Respiratory Cell and Molecular Biology and the Proceedings of the American Thoracic Society), they are automatically directed to the mobile-optimized
version of the site.
"Our members are delighted at the release of the mobile version of the AJRCCM site," said Diane Gern, Publisher at the American Thoracic Society. "Mobile websites allow our users to access content quickly and easily. The HighWire solution improves the user experience for our constituents."
HighWire's Mobile Web interface offers a solid feature set:
• Streamlined display for small screens and cellular networks
• Current content, archived and 'ahead of print' material
• Abstract, Extract, Full Text and PDF made available
• Mobile-friendly search page
• Standard authentication and sign-in options
• Article email sharing
• Journal branding and aesthetics
• Support for advertising and custom buttons
"We've been rolling out a series of user-friendly sites created for a variety of new purposes," noted Tom Rump, HighWire's Managing Director. "With the flexibility of HighWire's Open Platform, and using a series of purpose-built HighWire Drupal modules, we are now able to offer our publishing partners rapid deployment of a variety of new products and co-development opportunities, including apps, API's, gateway sites, and other cutting-edge ways to distribute their content."