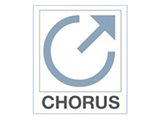 Howard Ratner, well known in the scholarly publishing community for his leadership work in technical services and standards, has been appointed as Executive Director of the new CHOR, Inc. not-for-profit organization. As Director of Development, Ratner successfully led the CHORUS (Clearinghouse for the Open Research of the United States) proof of concept — a conceptual design framework — and in under two months, launched the CHORUS pilot, the first service from CHOR, Inc.
CHORUS is a not-for-profit public-private partnership to increase public access to peer-reviewed publications that report on federally funded research, as required by the February 2013 Office of Science & Technology Policy memo. Over 90 publishers, societies and other organizations are now showing their support for CHORUS as signatories.
"Howard has done an excellent job of taking CHORUS from concept to pilot very quickly, as well as working tirelessly to engage with key stakeholders from the communities CHORUS will serve – funding agencies, publishers, libraries, institutions and scholarly societies," said Susan King, SVP of the American Chemical Society's Journals Publishing Group and Chair of the CHOR, Inc. Board. "His appointment as CHOR, Inc.'s inaugural Executive Director reflects the Board's confidence in Howard's ability to launch CHORUS as a sustainable solution to the White House's calls for increased public access to research."
Ratner has a strong history of successful collaboration in the development of new services and technologies in scholarly publishing. He played a key role in the establishment of the Digital Object Identifier and CrossRef, the collaborative service that enables reference linking among the world's scholarly publishing platforms. CrossRef recently launched FundRef, which serves as a key component service of CHORUS. Ratner was also active in the development of CLOCKSS, the joint venture providing a sustainable, geographically distributed dark archive for web-based scholarly publications. CLOCKSS' archiving solution is among the preservation alternatives CHORUS is exploring to offer participating organizations. He co-founded ORCID, the registry which uniquely reaches across disciplines, research sectors and national boundaries in cooperation with other identifier systems. ORCID provides supporting technology to CHORUS.
Ratner is President-Elect of the Society for Scholarly Publishing and previously held roles as Chief Technology Officer, Executive Vice President for Nature Publishing Group and Director, Electronic Publishing and Production, Springer.