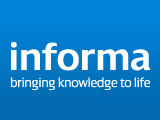 Informa Plc confirmed Tuesday that Stephen Carter will take up the role of Group Chief Executive with effect from January 1st. Carter succeeds current Chief Executive Peter Rigby, who will retire from the company.
The company also announced that Adam Walker, Group Finance Director, will leave the company today. In October, Walker has been appointed by engineering group GKN Plc (GKN.L) as its Group Finance Director, succeeding Bill Seeger, effective February 26, 2014. Walker will join the GKN Board on January 1, 2014 as Group Finance Director Designate.
Walker has been Informa's Finance Director since March 2008. Informa earlier had said that it has appointed an executive search firm to work closely with Carter to identify his successor.
In addition, the company announced today that Geoffrey Cooper has been appointed as Chair of the Remuneration Committee, succeeding Pamela Kirby, who has decided to step down, also effective January 1.
The company noted that Rigby, in line with his contractual entitlements, will receive a bonus equivalent to 100% of his base salary for the financial year ended December 31, 2013. Informa said that as a good leaver under the provisions of the Long-Term Incentive Plan and the Deferred Share Bonus Plan, Rigby has received a pro-rata vesting of 61,763 shares and all his 41,541 deferred share bonus plan shares. In addition 927 shares will be released from the Share Incentive Plan after December 31, 2013.
Regarding Walker, the company noted that the Remuneration Committee will determine in February 2014 what, if any, remuneration payments may be made depending on the trading results for the 2013 financial year and in accordance with the usual annual bonus calculation process.
Rigby, aged 58, first joined Informa in 1983 and has served as Chief Executive or Executive Chairman since 1988.