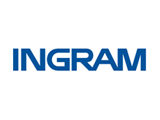 Ingram Content Group Inc., today announced the addition of new leaders to Ingram Publisher Services, Ingram's full-service publisher distribution and sales services company.
Gonzalo Ferreyra has joined Ingram Publisher Services in the role of Director of Acquisitions, Full-Service Distribution. Gonzalo has 24 years of experience in the book industry having held prior positions with Weldon Owen Publishing, VIZ Media, Ten Speed Press and Borders Group, Inc.
Carter Holliday, most recently with Ingram's Lightning Source, has been appointed to Director of Acquisitions, Third-Party Logistics and Ingram Content Group Services. Carter will work with publishers on the development of outsourced logistics services and solutions.  Carter has an extensive background in publishing, warehousing, print-on-demand book manufacturing and digital content distribution.
Leah Rex, has been promoted to Director of Client Relations, Ingram Publisher Services. Leah previously held the position of Director of Acquisitions, Full-Service Distribution at Ingram Publisher Services. Leah will succeed Karen Cross, Vice President, Client Relations for Ingram Publisher Services, who will retire in January 2014.