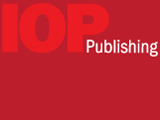 IOP Publishing (IOP), Bristol, UK and the Sinopec Geophysical Research Institute (SGRI), Nanjing, China, have announced the renewal of their publishing partnership. Building on nine years of collaboration, the partnership will ensure that the Journal of Geophysics and Engineering continues to be a distinguished journal within its field.
The Journal of Geophysics and Engineering covers research and developments in geophysics and related areas of engineering. Since the journal was first published in 2004, the journal has grown significantly and is now published six times per year.
Over half of IOP's journals are published in partnership with other learned societies and research organisations. IOP is committed to providing high-quality publishing services to authors, readers, librarians and partners to disseminate research within the international scientific community.