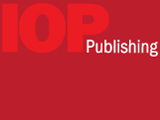 OP Publishing expands materials science publishing programme
Three new journals to launch in 2014
IOP Publishing is to introduce three new journals in the field of materials science to its journal publishing programme.
The three new journals will enable IOP Publishing to respond to author and reader demand across the materials research community, while also supporting the company's broader physical sciences remit and established materials science programme.
The three new journals are as follows:
Translational Materials Research
Translational Materials Research  will focus on the steps needed to translate breakthroughs in materials research into ready-for-market products and applications. The journal will combine primary research with news, analysis and opinion from both the creators of new technologies and key stakeholders in the policy, funding and business communities.
The journal's Editor-in-Chief, Professor George Grüner (University of California Los Angeles, USA) commented: "Discoveries in materials research, while leading to new science, also create value propositions for applications in new and existing markets. Translational Materials Research will make connections across the innovation chain to bridge the so-called 'valley of death' between fundamental research and commercial success."
2D Materials
2D Materials  will bring together fundamental science and applications of one of the most rapidly developing classes of novel new materials. The journal will cover all aspects of graphene and other two-dimensional materials from a multidisciplinary angle.
The journal's Editor-in-Chief, Professor Vladimir Fal'ko (University of Lancaster, UK) said: "Research on two-dimensional materials, such as graphene, now involves thousands of researchers worldwide cutting across physics, chemistry, engineering and biology, and extending from fundamental science to novel applications. It is this situation which defines the scope and mission of 2D Materials in serving all sides of this multidisciplinary field by publishing urgent research of only the highest quality, and guaranteeing very fast publication. I am delighted to be working with IOP Publishing, as a leading society publisher, in developing what I believe will be a significant and very timely new journal."
Materials Research Express
Materials Research Express has the broadest scope of the three new journals and will embrace the full range of research activities that now extend across materials science to complement IOP Publishing's other existing titles in the area.
The journal's Editor-in-Chief, Professor Meyya Meyyappan (NASA Ames Research Center, CA, USA) stated: "Materials Research Express is an exciting new journal for all materials scientists, in all parts of the world, which will uniquely provide an attractive combination of very fast peer-review, scientific rigour and complete article length flexibility."
Dr Nicola Gulley, Editorial Director for IOP Publishing, said: "Advances in materials underpin innovation across a broad range of sectors, ranging from high-speed electronics and communications through to sensing, medical diagnostics and energy applications. The field is an excellent match to our existing publishing programme and enables us to offer researchers in both academia and industry a complete overview of this fast-moving field.
"Our new titles, alongside our existing materials research programme, ensure that IOP Publishing remains a vital destination for researchers, academics, policy makers and funding bodies both now and into the future."
All three journals will offer open access publishing options and will call for submissions later this year.
More information about the launches can be found at http://www.ioppublishing.org/newsDetails/iop-publishing-expands-materials-science-publishing-programme