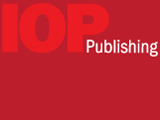 IOP Publishing (IOP) has today announced a significant change to its copyright arrangements for research published on an open access basis in the company's wholly owned journals and for bibliographic metadata.
As a result of this move, the company will adopt a more liberal Creative Commons licence (CC-BY 3.0) for future articles published on a 'gold' open access basis. This licence allows others to distribute, remix, amend, and build upon a piece of work as long as they credit the original creation. The licences grant rights to the users of the content but do not replace the copyright, which remains with the copyright holder.
The change applies to articles being published on an open access basis in all IOP owned 'hybrid' journals and the gold open access titles New Journal of Physics and Environmental Research Letters.
In addition to the change in licence for open access articles, the basic metadata of the articles in IOP's own journals will also be available for use under a CC-BY licence. This is intended to increase the visibility of such data and to help clarify to third parties what they can and cannot do with metadata.
Nicola Gulley, IOP's Editorial Director, said of the move, "IOP Publishing has long been a supporter of sustainable open access and we have a proud history of experimentation and innovation with different models of publishing. We felt this new move was a natural step that will help the company fulfil its mission to provide the scientific community with tools to ensure the maximum dissemination of research, help foster collaborations between research groups, and meet the requirements of Funding Agencies and organisations."
Unless specifically requested, articles submitted before 25 October will be published under a Creative Commons-Non-Commercial-ShareAlike 3.0 licence. Articles submitted on or after 25th October will automatically be published under a CC-BY licence. IOP's copyright statements on iopscience.iop.org have been updated to reflect this change.