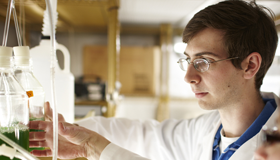 The Intellectual Property & Science business of Thomson Reuters, today announced a renewed four-year commitment between the Irish Universities Association and Thomson Reuters to demonstrate the efficiency and global impact of Ireland's scientific research. The trusted indicators of Thomson Reuters InCitesTM, a customized, web-based research evaluation tool, enable universities to measure research output and impact, monitor trends, and benchmark their performance against peers at the individual, departmental and global levels.
The strategic relationship between Thomson Reuters and the Irish Universities Association supports individual institution's plans to develop new research strategies, retain talent, pinpoint emerging trends and identify new opportunities for collaboration through InCites indicators. The Irish Universities Association comprises the seven universities in Ireland: Trinity College Dublin, University College Dublin, Dublin City University, National University of Ireland Maynooth, University College Cork, University of Limerick and University Galway. Additional consortium members include Dublin Institute of Technology, Royal College of Surgeons in Ireland, Higher Education Authority and Science Foundation Ireland.
Built on content from Thomson Reuters Web of KnowledgeSM, the industry's premier research platform for information in the sciences, social sciences arts and humanities, the customized data sets in InCites will provide analytics on authors, journals and fields, as well as connect to the proprietary university research management and profiling systems for full workflow integration.
"Renewing our strategic alliance with Thomson Reuters will provide all of Ireland's universities with a comprehensive overview of how our institutions compare to each other and, even more importantly, how they fare globally," said Conor O'Carroll, research director at the Irish Universities Association. "It will be critical in helping us extend Ireland's global research footprint."
"The agreement with Thomson Reuters will enable Irish institutions to improve their ability to assess and compare research performance against the world's top universities; we will be able to see and report on where we are excelling and track the impact of our new areas of research as they emerge and develop," said Niamh Brennan, programme manager, Research Informatics at Trinity College Dublin. "Data from InCites provide us with continuing evidence that Ireland 'punches above its weight' in terms of the impact of its research; using InCites alongside complementary metrics and analytics within this national collaborative initiative will strongly support our researchers and our universities to enhance their already stellar performance on the global research stage."
InCites is a customized, web-based evaluation tool that enables universities, funding bodies and policy makers to analyze their research productivity and compare their output against that of their peers. The solution provides normalized metrics for repeatable analysis of outcomes, cross-regional impacts, discipline comparisons and standardized, accurate reviews for promotion and tenure processes. InCites also can serve as a support solution in ongoing quality assurance activities.
"The Irish Universities Association, like many academic consortiums and institutions worldwide, recognizes the growing need to measure performance by demonstrating and promoting the impact of the member institutions' research," said Gordon Macomber, managing director of Thomson Reuters Scientific and Scholarly Research. "We are very pleased to renew our agreement with this esteemed organization and honored to help the universities of Ireland remain on top of the latest global research trends while improving the global impact and performance of their research efforts."