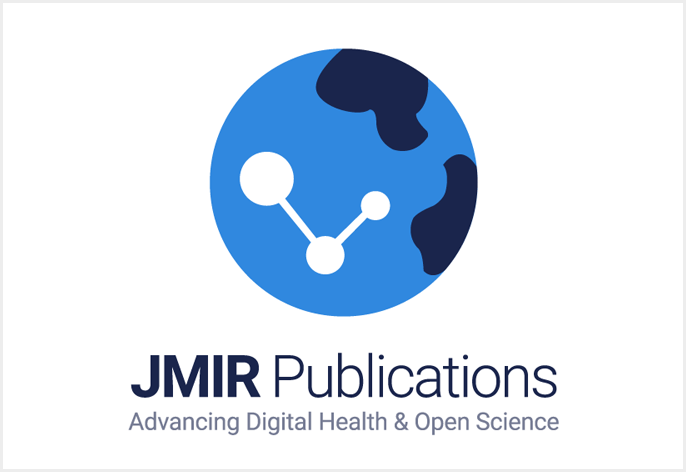 JMIR Publications, a leading "born digital" open-access publisher of academic peer-reviewed journals with a focus on digital health and open science, and other innovative scientific communication products, today announced the appointment of three senior executives to join its leadership team, starting in January 2021.
Adrian Stanley, previously with Digital Science (a flagship company within the Holtzbrinck Publishing Group) and former president of the Society for Scholarly Publishing (SSP), joins the JMIR executive team in the newly created role of Chief Innovation and Development Officer (CIDO) to lead JMIR's growth, sustainability, and innovation by focusing on strategic partnerships, brand expansion, and execution of innovative initiatives to elevate JMIR's mission and position it as a leader in the Digital Health and Open Science research ecosystem.
Lisa Cuevas Shaw joins JMIR as Chief Operating Officer (COO) and Deputy Publisher to lead JMIR's growing operations while building on the organization's reputation as one of the most author-friendly and fastest publishers in the world. Lisa comes from SAGE Publishing, where she spent the last 8 years of her tenure as Senior Vice President and a member of SAGE's senior executive team.
Finally, Michael Shepard joins JMIR as Chief Technology Officer (CTO) to implement JMIR's ambitious strategy to re-engineer the scholarly publishing workflow, providing an outstanding user experience in academic submission and peer-review platforms, and to architect a "preprint-first" review and publishing strategy.
"We are thrilled and proud to have been able to recruit these respected and well-known industry leaders to join JMIR Publications at this critical time of unprecedented growth," said Prof Dr Gunther Eysenbach, JMIR Publication's Founder and Chief Executive Officer (CEO) and Executive Editor. "COVID-19 and the subsequent explosion of use of technology in health and science has validated the importance of everything we have been doing over the past 20 years, championing digital health, digital medicine, and digital science. With Adrian, Lisa, and Michael's leadership, we will enter into a new era for JMIR, marked by a wide range of strategic partnerships, firmly positioning JMIR Publications as the go-to organization in the world for digital innovation in science and health. We will continue to disrupt and 'reimagineer' scholarly communication in the Internet age."
"Our innovative strategy and proven results were key ingredients that enabled us to attract some of the best talent in the industry," said Chris Boynton, JMIR Vice President, Organizational Development.
Adrian Stanley, in his role as Chief Innovation and Development Officer (CIDO), will utilize his global strategic development expertise and understanding of disruptive innovative start-up technologies to lead JMIR's next phase of growth in the Digital Health and Open Science scholarly research ecosystem.
Adrian has more than 25 years of experience working in the global publishing world and has held many leadership positions, including President of the Society for Scholarly Publishers (SSP), Chair of the SSP Funder Taskforce, Associate Editor for Learned Publishing, Directory of Open Access Journals (DOAJ) Ambassador, and Board Member for the Canadian not-for-profit youth organization STEM Fellowship. Prior to being Managing Director, Publishers at Digital Science, Adrian was the CEO of the Charlesworth Group (USA) and Chief Operating Officer for Charlesworth China, living and working in China to help grow the company from a staff of 3 people to 200 people. Adrian received degrees from the University of Leeds and the University of Huddersfield in the United Kingdom. He resides in Philadelphia, USA, with his wife, son, and 4 rescue animals. He enjoys coaching his youth soccer team and communicating with friends and colleagues from around the globe.
Lisa Cuevas Shaw, JMIR's new Chief Operating Officer (COO) and Deputy Publisher, brings more than 20 years of progressive strategy, business development, and operations experience from across the information sector, with expertise in scholarly, educational, and professional publishing; digital products; and services. As COO and Deputy Publisher, Lisa will apply her experience and track record of creating sustained value for mission-driven organizations through the alignment of vision, strategy, and operational execution to create a platform to support JMIR's exciting growth and innovation trajectory. Specifically, Lisa will lead JMIR's core operations—including the end-to-end publishing processes, outputs, and extended services that the JMIR team offers—supporting JMIR's open research workflows and infrastructure for greater social impact. Lisa joins JMIR after 8 years as a member of SAGE Publishing's senior executive team, serving as SVP and Managing Director, USA, for Corwin, a SAGE subsidiary. During her tenure, Corwin tripled in size and moved from a transactional operation to one rooted in transformational partnerships. Prior to that role, she has held various leadership positions across academic journals and books as well as higher education learning resources. Her content area knowledge spans the social and behavioral sciences, health, and research methods and evaluation. Lisa also teaches management at Pepperdine University and is completing her PhD, studying systems theory as applied to the open science movement. She has a passion for individual, team, and organizational leadership development; management excellence; and learning. Lisa currently lives in Southern California with her husband. In their "spare" time, they manage a small vineyard and winery.
Michael Shepard, JMIR's new Chief Technology Officer (CTO), brings more than 20 years of progressive engineering management, technology strategy, and mission-critical systems from the B2B enterprise and FinTech industries. Michael will lead the engineering development of JMIR's innovative new platforms for social impact. He utilizes his technology leadership to build our new platforms for rapid scaling to make JMIR the Digital Health and Open Science scholarly ecosystem leader. JMIR's continued growth requires a rapidly expanding development team. Michael will build our world-class software engineering teams, focusing on people and technology's performance leadership for velocity, productivity, and scale.
As CTO, Michael will apply his experience and track record of more than 50 programming languages and cloud systems for automotive, aerospace, and financial industries. His successful mission-critical systems operate where downtime costs millions of dollars per hour to keep people, products, and companies safe and resilient. He developed big data systems before it was called Big Data. Michael is an Alumni of Founder's Institute, Silicon Valley's leading idea-stage accelerator, and an Honours Electronic Engineering Technology graduate. He co-founded a Canadian digital not-for-profit library that has over 1 million yearly users, preserving Canadian out-of-copyright books free online forever. Michael has also lectured students on User Experiences and was a panel speaker on Entrepreneurship at the University of Toronto. He has a passion for learning and technology, to help others and solve pressing global challenges. He is committed to helping developers and engineers reach their fullest potential while solving hard problems with an engineering excellence environment where teams are proud of their work and held to the highest life safety standards for code and performance.
Michael currently lives in Toronto, Canada, with his wife and two children. He enjoys volunteering with St. John Ambulance Peel-Dufferin on the Board of Directors after having worked as a volunteer Medical First Responder providing First Aid and emergency response to the community.