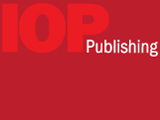 The 2013 Impact Factors, published by Thomson Reuters, once again show growth for many of the journals published by IOP Publishing (IOP).
Dr Nicola Gulley, Editorial Director of IOP said: "We would like to thank our authors, referees and editorial board members who have contributed to the continued success of the journals.
"While the Impact Factor continues to be a widely recognised measure of the quality and prestige of a journal, we also know that other metrics are paramount. In addition to launching article level metrics in 2012, we are getting involved with other key industry initiatives, such as partnering with Kudos."
This year, more than half of the titles published by IOP have seen an increase in citations from last year. Additionally, 25 titles have had an increase of over 5% and 28% of IOP's journals have Impact Factors above 2.000.
There were high performances from individual journals:
· Biofabrication increased by 16% to 4.302.
· Environmental Research Letters increased by 14% to 4.090.
· Journal of Breath Research increased by 40% to 3.590.
· Nuclear Fusion increased by 19% to 3.243. Published in partnership with the International Atomic Energy Agency.
· Physical Biology increased by 20% to 3.140.
· Reports on Progress in Physics increased by 18% to 15.633.
· Semiconductor Science and Technology increased by 15% to 2.206.
Our full results will be published on IOPscience shortly.