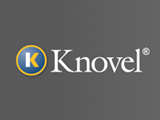 Knovel, a leader in providing a Web-based application that integrates technical information with analytical and search tools, today announced that the company achieved double-digit sales growth in the 2013 fiscal year which closed on March 31, 2013. Knovel's annual subscription renewal rate also continues to exceed 90 percent overall. Knovel's focus on engineers and the expansion of its high quality content offerings are key drivers of the company's success.
Knovel's customer roster of world-class engineering firms and academic institutions expanded. One such customer, Arup, a world-leader in the engineering design and construction sector, now offers access to Knovel's Web-based technical references to its 10,000 employees from 90 offices in 35 countries.
The 2012 Knovel University Challenge reflected Knovel's increased international user base. This student competition saw record global participation with more than 50 percent of participants from outside of North America.
New publishers and subject areas were primary drivers of Knovel's robust content expansion. The company added 14 new publishers, including six European publishers and three new subject areas. Knovel's continued ability to lead the way in delivering the most relevant and trusted content in the industry was once again recognized by EContent, which listed Knovel as one of the EContent 100 for the seventh time.
Throughout the year Knovel also introduced a host of new interactive content and tools. Three new databases were made exclusively available via Knovel's Critical Content line: Yaws Critical Property Data, Titanium Alloy Database and Crude Oil Assay Database. All include highly interactive tables, graphs and data compiled from authoritative sources. Knovel also launched a free engineering unit converter that includes over 1,000 units and performs math functions.
In December 2012, Knovel was acquired by Elsevier, a world-leading provider of scientific, technical and medical information products and services. As part of Elsevier's Engineering and Technology Markets, Knovel complements a suite of Elsevier products that aim to improve R&D outcomes and the workflow of engineers. Furthermore, Knovel now has more resources available to accelerate its user-focused product development, providing comprehensive engineering content to more organizations worldwide.
"This fiscal year was one of Knovel's best years, with a significant increase in Knovel's content offerings and new customers worldwide," said Ella Balagula, Senior Vice President, Engineering and Technology Markets at Elsevier. "Engineers need fast access to credible information, and Knovel continues to be relied upon by engineering professionals and students worldwide. As part of the Elsevier family, Knovel will continue to provide engineers with the content and tools they need to innovate and work efficiently."