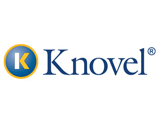 2013 was a year of significant change for Knovel. Highlights include the acquisition by Elsevier announced last January, the launch of a new Knovel platform and significant content growth. Historically focused on being the first place engineers turn for trusted answers, Knovel continues to execute on this vision to meet the needs of today's engineer.
With a focus on the user experience, Knovel's new platform, launched in September, features advanced search and simplified navigation that ensure engineers can more easily discover the content they need and readily use it in their workflow. The overall experience is seamless, enabling engineers to use Knovel in conjunction with other engineering applications, customer knowledge bases and enterprise software tools. Interactivity is a core part of Knovel's offering, and in 2013, Knovel substantially improved the user interface and functionality of its Equation Plotter, Graph Digitizer, Graph Plotter, Phase Diagram Viewer and Parameterized Graph tools.
"The new Knovel platform has a fresh look, is easy to navigate, and the improved data search is particularly impressive and user-friendly," said Linda Fawcett, Information Manager for AMEC, the international engineering and project management company. "Knovel is already well embedded in AMEC and the new platform is opening up the content to our engineers in an even more accessible way."
In 2013, Knovel added more than 20 new content partners, including Taylor & Francis and ICE Publishing. Knovel added two new subject areas and the content collection grew more than 20 percent across the board, and at least 10 percent in existing subject areas. Knovel's cloud-based application integrates technical information from more than 100 engineering publishers and societies with analytical and search tools used by engineers worldwide
"Elsevier has long valued the important role that Knovel plays in the community of engineers worldwide, and when we acquired Knovel last year, we committed to the high standards that the Knovel team set for delivering value to customers and continually improving the user experience," said Ella Balagula, Senior Vice President, Engineering and Technology Markets at Elsevier. "A year later, we've achieved significant milestones. I am proud of the team's focus, drive and accomplishments that pave the way for more successes in 2014."
Knovel continues to support the engineering community through a variety of programs and initiatives that encourage life-long learning and career advancement. More than 4,400 students worldwide participated in the 2013 Knovel University Challenge. This program encourages students to get hands-on experience with engineering resources available to them. Through sponsorship of Engineers Without Borders (EWB-USA), Knovel provided a grant to support the work of a University of South Carolina student project in Ecuador, and two additional grants are planned for 2014 via Knovel's ongoing sponsorship of EWB. The 2013 Knovel Virtual Conference featured a variety of presentations from engineering leaders and industry experts to support career development and awareness of Knovel.