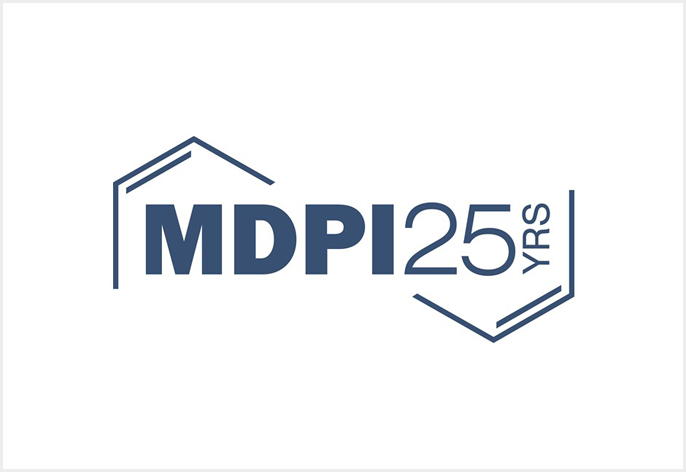 In June of this year, MDPI will celebrate the 25th anniversary of its foundation. To mark this significant milestone, we have created a 25th Anniversary page on our website that evokes the development of our company over the past quarter-century.
MDPI has been a pioneer of Open Access publishing ever since the concept was first created.
In a wide-ranging interview, our CEO Delia Mihaila reflects on the company's 25th anniversary and its contribution to the world of scientific publishing.
Delia considers how MDPI has evolved since starting life in 1996 as a visionary 'project' run out of an apartment in Basel, Switzerland, by Dr. Shu-Kun Lin. A chemist who was passionate about the long-term preservation of rare chemical sample, Dr. Lin was determined to help scholars publish their findings as quickly as possible and make their research results available to as wide a readership as possible worldwide. That determination remains unchanged 25 years later.
Today, MDPI is an international organization with over 4,000 employees based on three continents and in ten countries, and ranks among the world's top four academic publishers.
A 25th anniversary is a major milestone in the life of any organization. What does it mean for MDPI, Delia?
Considering the average lifespan of young organizations today, reaching this milestone is a terrific achievement for us all at MDPI. It's all the more remarkable when you take into account that this quarter-century of growth has been achieved without any infusion of external capital. MDPI has never even taken out a bank loan and has always been entirely independent and self-supporting. That says a lot, I think, about the strength and sustainability of our business model.
Today, MDPI is very well established in the academic publishing market. We're full of energy and strength, and we still feel young and dynamic, and see ourselves as an evolving organization.
Reaching our 25th anniversary in such good shape gives us the confidence for the next stages of our journey with our 'project' – as Dr. Shu-Kun Lin, MDPI's founder, has always preferred to call MDPI. A project is something with an evolutionary trajectory, and that's a very good description of our organization.
How has MDPI evolved since it was first founded?
The company began life in 1996 as a small editorial office run out of an apartment in Basel, Switzerland, by Dr. Lin, a chemist who was passionate about the long-term preservation of rare chemical samples. Dr. Lin was – and still is – determined to help scholars publish their findings as quickly as possible and make their research results available to as wide a readership as possible worldwide. He felt that scientists deserved a better service from the publishing world, and he created an organization to fulfil this need.
In the course of the ensuing quarter-century, MDPI grew into an international organization with over 4,000 employees based in three continents and ten countries. I would have never imagined when I joined MDPI in 2013 that we would number among the world top four academic publishers within the space of eight years – but that's where we are today, and we're all very proud of this achievement.
Of course, when looking at the figures for our growth over the years, you might imagine that our evolution has been a smooth process. That's far from the case. There have been many challenges and struggles along the way, and it's taken a huge amount of work to get to where we are today.
Could you tell us more about those challenges?
I've only witnessed the ones of the past eight years, since joining MDPI, but I've heard Dr. Lin's accounts of the many hurdles that had to be overcome in the past. When you put yourself forward as a game-changer in the industry, with a vision to transform ways of thinking, to replace old models and practices, you encounter a lot of resistance and, indeed, criticism. It takes a lot of advocacy, as well as sheer hard work, to prove that your approach is feasible and worthy of adoption.
In 1996, when Dr. Lin started our first journal, Molecules, using the Open Access (OA) model, people hadn't even heard of the term 'open access', let alone the concept 'pay to publish'. So it was impossible for him to finance the journal through article processing charges, or APCs – also known as publication fees. He had to fund it via the project to sell or rent out chemical samples and by drawing on his modest savings.
In the ensuing years, MDPI – along with other Open Access publishers – encountered a lot of skepticism. We were criticized for our approach and we attracted labels such as 'predatory publisher' and 'money-making machine', simply because our funding model was different from the traditional one, which is based on subscriptions. And this despite the fact that our editorial process is completely traditional, relying on the independent decision-making of Academic Editors who are themselves active researchers and scholars in their fields. We're conscious that in OA publishing and with an APC model it's an absolute necessity to be transparent, so this is of course fundamental to the way we work.
Knowing both the traditional and the OA model very well from personal experience, I can state that the OA model is much more transparent and cost-effective for academic institutions and scholars. It's also more sustainable, as a given journal is not forced to reject a certain percentage of papers simply because the page budget for the year is limited. Many well-established traditional journals pride themselves on having very high rejection rates. In fact, they even admit that they reject extremely good papers just because they want to be very selective, strictly limiting the number of papers in the journal. Our ethos is very different: we provide a service that allows scholars to disseminate their research findings faster, so that others can study them and, where appropriate, act on them. More than 96% of our output is indexed in Web of Science, in fact.
Although we have sometimes experienced severe criticism over the years, and although we have always taken this very seriously, such attacks have never dissuaded scholars from publishing with MDPI, or from collaborating with us in their capacity as editors and reviewers. We have simply sought to offer them a very good service and very good value for money. This is reflected in the high levels of customer loyalty we have enjoyed over the years.
MDPI's growth has been spectacular, particularly in recent years. To what do you attribute this growth?
I think it's mainly due to our company culture. The market conditions are the same for all publishers, but culture is a defining point of difference.
We've always been an ambitious company with a clear focus on growing by providing a highly valued service to our customers. MDPI exists to help scientists achieve their own objectives. We see ourselves as a service provider, rather than a product provider. Our offering consists of services to scholars rather than simply journals for scholars: MDPI journals are not hidden behind a paywall but are free for everyone to read, and they allow scientists to communicate rapidly not just among themselves but with the wider world as well.
We're flexible, we're agile, and we focus single-mindedly on our strategic objectives. We also invest in our people, recruiting so as to ensure that we have the necessary capacity and skills to service our global customer base. And although we now have over 4,000 employees world wide, we've always retained the mentality of a start-up. That means re-investing profits in the company, in the form of new hires and people development, as well as a constantly evolving infrastructure.
We expect our people to be really passionate, excited about their work and fully dedicated to it. As I tell all the candidates I have the chance to interview myself, working for MDPI is not a comfortable nine to five job that's just about picking up a salary at the end of the month. We're constantly pushed out of our comfort zone here. We have a flat organizational structure that's designed to avoid potential bottlenecks in the decision-making process, and we try as much as possible to avoid bureaucratic procedures that might slow things down. The way we work may be stressful sometimes, but it really stimulates us here, and there are many bright and ambitious people at MDPI who are willing to go the extra mile for their colleagues and their customers. MDPI offers such employees the chance to achieve their full potential – which is a stretch target. I myself am an example of this culture, and I'm very grateful for it.
You indicated that MDPI has always been financially self-supporting. How is that possible in a company of this size?
Yes, we have no debts and we finance ourselves exclusively from the services we provide to our customers. We also have a careful approach to cost management. For example, we've always used videoconferencing for Board meetings rather than flying people around the world for expensive face-to-face meetings. This helps keep costs down and has the added advantage of ensuring that all Board members attend all meetings. It's a highly efficient approach, which we were using long before the COVID-19 pandemic made companies worldwide dependent on videoconferencing to keep their daily operations running.
MDPI's USP is that it accelerates access to new scientific research, delivering insight faster for the scientific community and the wider world as well. What are the implications of this increased speed, Delia? What does it allow us to do better than before?
The benefits of speed are numerous. It not only helps the advancement of research but can improve and even save lives – for example, by informing government decisions on matters that might be urgent. The speed at which new findings about COVID-19 were published after the pandemic broke in 2020 is a good example of this. Another is the work we published about Ebola when that pandemic first occurred. Secondly, speed offers significant benefits for researchers' careers. It's a huge reward for a researcher to be the first to have published the results of several years' research.
There are also other, less immediately apparent, benefits. All scholars want to publish ground-breaking results, but not all research work delivers these. Partial or even negative results can in fact be very helpful for the wider scientific community, as they can provide highly useful insights to scientists and thus accelerate the identification of workable solutions to specific problems. We can learn from failures as well as successes, and putting 'research waste' to positive use in this manner can enable the scientific community to get to results faster and to save money and resources in the process.
What future do you see for the traditional, subscription-based, publishing model? Will it eventually become a thing of the past, or will it continue to coexist with Open Access, do you think?
That isn't for me to predict, but I personally believe the Open Access model is irreversible and will eventually become the predominant model in scientific publishing. The subscription model had been in a state of steady decline for many years even before the acceleration of the transition to OA started. Given the obvious benefits for all the stakeholders of academic publishing (researchers, practitioners learned societies, funders, private and public research institutions, companies/industries, decision-makers and governments, and society at large), I'd find it hard to believe that they would be willing to continue to use a journal that has limited or even blocked access. However, I'm not pretending that the OA model is perfect and that there's nothing to improve about it. There's still a lot of work to be done.
On which note, Delia, what would be your advice to a young academic interested in pursuing a career at MDPI?
I'd encourage any young academic who is passionate about science and might be contemplating giving up a research career for whatever reason to think about joining us. We hired many young people with a PhD or Master's degree in 2020, and we'll be hiring many more, around the world during our 25th anniversary year.
And your advice to scholars considering Open Access publication of their work?
That's simple. If you want traditional peer review, fast publication, and a smooth, cost-effective process, then think of MDPI!
Many thanks for your time, Delia, and the best of luck to you and your colleagues as you explore the opportunities of the coming years.