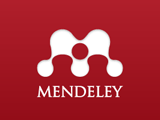 Imagine the rich ecosystem of third-party Facebook and Twitter apps, now emerging in the domain of science. More than 240 applications for research collaboration, measurement, visualization, semantic markup, and discovery – all of which have been developed in the past year – receive a constant flow of data from Mendeley. Today, Mendeley announced that the number of queries to its database (termed "API calls") from those external applications had surpassed 100 million per month.
Akin to a "Wikipedia for academic data", the information fueling this ecosystem has been crowdsourced by the scientific community itself. Using Mendeley's suite of document management and collaboration tools, in just three years its global community of 1.9 million researchers has created a shared database containing 65 million unique documents and covering – according to recent studies – 97.2% to 99.5% of all research articles published. Commercial databases by Thomson Reuters and Elseviers contain 49 million and 47 million unique documents respectively, but access to their databases is licensed to universities for tens of thousands of dollars per year.
In contrast, Mendeley's database is freely accessible under a Creative Commons license, and it is the only one that allows third-party developers to build their own tools with the research data anywhere on the web, on mobile devices, or on the desktop. Moreover, because Mendeley's data is crowdsourced, it has a unique social layer: Each document comes with anonymized real-time information about the academic status, field of research, current interests, location of, and keywords generated by its readers. Mendeley's API also adds information about related research documents and public groups on Mendeley that the document is being discussed in.
The most popular apps built on Mendeley's platform fulfill academia's need for faster and more granular metrics of scientific impact: ReaderMeter.org and Total-Impact.orgdisplay a researcher's or a labs' real-time impact on the academic community, while Mendeley itself recently announced the first sales of its real-time research impact dashboard to academic institutions around the globe. Hojoki pulls updates from Mendeley and other productivity tools like Evernote and Basecamp into a common newsfeed. Kleenk allows users to create free-form semantic links between documents in their Mendeley library and share them publicly. OpenSNP, winner of Mendeley's $10,001 Binary Battle prize, makes the connection between raw genetic data and published research.
Bastian Greshake, co-founder of openSNP, explained: "We started openSNP to crowdsource the discovery of genotype-phenotype associations. In less than a year, our users have uploaded over 200 genetic testing results and more than 3400 phenotypic annotations for over 100 different genetically influenced traits, which is a great success. Mendeley's API enables our users to find the latest scientific literature – including thousands of Open Access articles – relevant to their own genetic testing results."
Dario Taraborelli, Senior Research Analyst at the Wikimedia Foundation and creator of ReaderMeter.org, said: "By sharing a large corpus of open-licensed data, Mendeley is laying the foundation for a whole new science of the making and spreading of scientific knowledge. This offers coders and researchers alike an unprecedented opportunity to map and measure the real-time impact of scientific research. Mendeley's API is a mountain of data just waiting to be mined." Jason Priem and Heather Piwowar, co-founders of Total-Impact.org, added: "Using Mendeley's data, we can show how papers are making a difference long before they show up in the citation record, as well as which papers are making a difference to student readers, or readers in developing countries. Of course, this wouldn't be possible without Mendeley's commitment to releasing this data openly, under the CC-BY license.  A lot of us in the Open Science community are convinced that the we're on the way to a system built on this kind of openness. In the future, researchers will interact with the literature via a web of interlocking, third-party applications for sorting, filtering, and conversing. By opening its valuable data to developers, Mendeley is helping us get there, today."
Tim O'Reilly, founder of O'Reilly Media and also a Mendeley Binary Battle judge, added: "This milestone shows how the future of science is being built, app by app, data source by data source. Open data is the biggest science story of the 21st century."
Dr. Victor Henning, CEO & Co-Founder of Mendeley, said: "Our vision was always to make science more open. The Mendeley API liberates data that has been locked behind paywalls for decades – enabling app developers to reinvent academic workflows, research data discovery, even scientific publishing. Max Planck said: Science progresses funeral by funeral. I think we've found a better method."
Mendeley API graphs and app screenshots:
http://www.flickr.com/photos/mendeley/sets/72157631195319638/