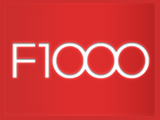 Michael Eisen, co-founder of the open-access journal PLOS (Public Library of Science), has joined Faculty
of 1000's International Advisory Board.
Faculty of 1000 (F1000) is the publisher of three unique services that support and inform the work of life
scientists and clinicians: F1000Prime, F1000Research and F1000Posters. F1000Prime is a comprehensive
directory of top articles in biology and medicine, each individually recommended by a Faculty of over
11,000 life scientists and clinical researchers (including 9 Nobel laureates). F1000Research is an open
science journal covering the life sciences, where articles are published first and then peer-reviewed after
publication by invited referees. The peer reviewer names and comments are all visible. In addition, the
data behind each article are published and downloadable.
F1000's International Advisory Board consists of highly respected global experts who advise F1000 on
broad policy issues and on its development of new products and services. Other names on the advisory
board include Bruce Alberts, Michael Bishop, Dame Kay Davies, Steven Hyman, Mary-Claire King, Sir
Keith Peters, Elizabeth Robertson, Arthur Rubenstein, Gerald Rubin, Alan Schechter and Hans Wigzell.
Michael Eisen is professor of Genetics, Genomics and Development at the University of California at
Berkeley and is a Howard Hughes Medical Institute Investigator. He co-founded PLOS in 2000 and serves
on the PLOS board and the Academic Steering & Advocacy Committee of Open Library of Humanities.
Eisen joined F1000 in September 2001 as a Faculty Member in the Genomics & Genetics Faculty.
Welcoming Eisen to the board, Chairman Vitek Tracz said, "We are thrilled to have Michael on the
International Advisory Board. Michael has been with F1000 since the birth of the Faculty, and is a
leading figure in the study of genomics. His knowledge and insights both as a scientist and as an
innovative science publisher will add substantially to Faculty of 1000."
Michael Eisen commented, "I am honoured to be invited to join an advisory board that contains so many
esteemed leaders in their fields of science. Faculty of 1000's post-publication peer review service is
already an important way in which researchers and clinicians can keep up with their reading and, with
plans in development for upcoming new features, I look forward to helping shape the future F1000
services."