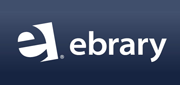 Publishers that distribute e-books to libraries under  subscription in addition to other models will receive the greatest value, according to ebrary®, a  ProQuest business. ebrary today announced that Wiley along with over 50 newly signed  publishers such as American Institute of Aeronautics and Astronautics, Leuven University  Press, and University of Illinois Press will distribute e-books in Academic Complete™ as well as  other models including perpetual archive, patron driven acquisition, and short-term loan.  Academic Complete subscribers will soon benefit from a growing selection of more than 75,000 quality e-books – including 1,800 new titles from Wiley – from over 500 participating publishers.
By leveraging Academic Complete to distribute certain types of e-books including important  backlist titles which would traditionally have been out of print, and making others such as the  most current e-books available in other models, publishers can participate in ebrary's new  strategic approach to e-book acquisition and distribution. This approach includes working with  libraries to leverage Academic Complete subscription usage statistics by discipline to determine  where to strategically apply additional budget to other acquisition models. It also involves streamlining and automating the ordering process through book vendors such as YBP.
"Libraries want the highest possible return on investment, which is best facilitated by a choice of  business models that ultimately gives them the ability to purchase and license collections based  on their budget availability and acquisition preferences," said Leslie Lees, ebrary's Vice  President of Content Development. "Many academic institutions use ebrary's subscription model  as an 'opening day' collection. They then use usage data to drive purchase decisions for front-list content that has particular value for them under ebrary's perpetual archive, e-preferred approval plans and patron driven acquisition business models."
Academic Complete was the industry's first e-book subscription product and has been serving as a foundational collection to thousands of libraries throughout the world for nearly a decade.  San Jose State University, an Academic Complete customer, is currently examining usage  statistics to strategically increase its patron driven acquisition initiative.
"…We have been examining our Academic Complete usage statistics to strategically expand  our patron driven acquisition program. By focusing on higher use subjects, we can better  determine which titles to add to our consideration pool and only purchase those that are used,"  stated Carole Correa-Morris, Head of Acquisitions at San Jose State University in an ebrary  press release issued April 10.
According to Kevin Sayar, President and General Manager of ebrary, a number of converging trends in the information industry are driving the need for strategic acquisition and distribution.  "As publishers are making more e-books available digitally, and libraries are transitioning more  budget from print to digital books, a more strategic approach is becoming a necessity," said  Sayar. "By utilizing a variety of models including subscription, publishers can more fully  monetize their monographic content, and libraries can affordably acquire the e-books  researchers require."
For more information about ebrary please visit www.ebrary.com.