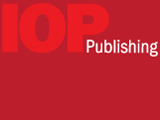 Jamie Hutchins has today been announced as the new Head of Publishing – Partner Journals, for IOP Publishing.
Mr Hutchins, who starts in his role at IOP Publishing's Bristol office on 17 December 2012, has over 13 years of experience in the science, technical and medicine publishing industry. He is currently working for Cambridge University Press as the Head of Journals, Americas, at their New York Office.
As the Head of Cambridge's journals department in the Americas, Mr Hutchins led a multi-functional team across editorial, sales, marketing and production. With strong leadership skills, Mr Hutchins has made significant contributions to Cambridge University Press including rejuvenating the New York office, resourcing it to better respond to market trends and to provide the best possible service to society partners. He also provided strategic advice to a number of high-profile society partners and led teams that signed and acquired a number of key journals focusing on subject areas targeted for growth.
Nicola Gulley, Editorial Director for IOP Publishing, said of the new appointment: "We're delighted that Jamie will be joining the team at this exciting juncture. With changes in the publishing industry, working closely with our partners to help achieve their objectives is a key focus for us and Jamie has a lot of experience to bring to this."
Mr Hutchins said of his appointment: "The STM Publishing industry continues to go through a period of dramatic change and society partners now look to their Publishers to provide strategic leadership alongside traditional publishing services, as they redefine their own position in the global scientific community. What strikes me about IOP is that as a subsidiary of a major scientific society they are in a unique position to understand the needs and requirements of their current and future partners. IOP has anticipated this on-going requirement and commenced upon an aggressive and exciting reorganisation of the operation to better respond. I am looking forward to being part of a team who share a vision for change."